Musicradio 77 WABC
The Greatest Top Forty Music Radio Station of All Time!
-- A web site from Allan Sniffen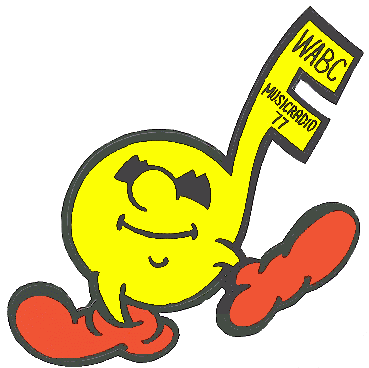 This web site has been accessed 5655071 times since January 5, 1997
Last updated May 21, 2013
The Musicradio WABC Picture of the Week
(Updated every Tuesday Night)
Some of the voices you will be hearing on WABC Rewound 2013!

Bruce Morrow, Ron Lundy, Rick Sklar, Chuck Leonard, Harry Harrison
WABC Rewound Is Coming To Rewound Radio THIS Weekend!
Rewound Radio is hosting "WABC Rewound" starting Saturday morning at 6 AM (Eastern)!
You'll hear original shows from your favorite Musicradio WABC DJ's all weekend along with the music and commercials!
Included are the airchecks collected and restored for WABC itself when it was airing "Rewound" over Memorial Days 1999-2009.
We have the originals (not recorded from the air) and have removed all the breaks today's WABC had inserted.
Plus, we've added additional shows.
There are over 125 airchecks!
It's Musicradio WABC back on the air for three full days!
Set your computer, smart phone or Internet radio to RewoundRadio.com all weekend long (May 25th - May 27th).

Click the speaker to listen:

You can also listen to Rewound Radio by clicking:
Rewound Radio Instant On
(If these links don't work for you, click here for additional ways to listen)
This Week's WABC Music Surveys for 35, 40, 45 and 50 Years Ago
Updated Every Tuesday Night
(WABC New Survey Day!)
May 23, 1978
May 22, 1973
May 21, 1968
May 21, 1963

What's new on the WABC Musicradio Web Site?

Harry Harrison Videos
Here's something we've never presented before:
Video!
Harry contributed two videos from his amazing career in New York radio:

The Top 77 Songs Of All Time As You Voted:
The Top 77 Of All Time For 2012
Would you like a free copy of the list?
(It actually goes up to #750)
It's fun and... fascinating!
Click here and Mike Riccio will e-mail it to you for free!

A New Dan Ingram Aircheck
It's unusual because Dan is doing a countdown of the Top 100
rather than playing the songs randomly!
(courtesy K. Talbot)
Web Site Index

WABC Musicradio 77 Web Site Introduction
The introduction to this web site and why WABC was the "greatest Top 40 radio station of all time".

The Evolution of Musicradio WABC
The most extensive single audio project undertaken by this web site was from January 12 to November 16, 1999. Over that time, we chronologically posted one new Dan Ingram aircheck per week to give web site visitors an opportunity to experience WABC as it evolved over its years as a music station. This section includes all of the airchecks from that series in order from 1961 until 1982. This is the section for true WABC fans.

The Sound of Musicradio 77 WABC
Sound Files. LOTS of them! This section includes hundreds of WABC recordings including airchecks, interviews, promos and even a few bloopers!

WABC Weekly Music Surveys
There are hundreds of these and we have every single one posted! Special thanks to Ken Williamson, Tom Natoli, Mike Riccio and Don Tandler!

WABC Top 100 Songs of the Year
The WABC Top 100 Songs of The Year lists from 1964 to 1982 as published by Musicradio WABC ranked in order. You may also download a program which allows you to sort these lists on your own computer.

WABC Jingles
WABC is the most famous radio station ever for its jingles from legendary companies like PAMS of Dallas, and JAM Creative Productions. This section describes the history of those jingles, the years they were made, anecdotes about many of them and more than 250 jingles in .wav format that you can download.

Musicradio WABC: Those great DJ's!
The great WABC DJ's! This is the most accurate and updated information we have about their careers before and after WABC.

WABC Air Schedule
The complete list of the dates and times that each air personality was scheduled on WABC from December 1960 to May 1982.

New York Radio Personality Harry Harrison Remembers
Harry Harrison did the "Morning Drive" show on WABC from 1968 until 1979. Harry has contributed an unbelievable collection of memorabilia to this web site. Pictures, airchecks, a biography of his career and more! THANKS to former WABC and WCBS-FM "Morning Mayor" Harry Harrison!

Musicradio WABC Rick Sklar Page
Rick Sklar was the programming wizard behind Musicradio WABC. This is a biography of his career and a tribute to his genius. It includes numerous audio clips from interviews he gave.

WABC Glenn Morgan Page
Glenn Morgan came to WABC as Assistant Program Director/Production Director in 1971. He became Program Director in 1975 and Operations Director in 1977. He was responsible for most of the promos heard on the station in the seventies and also for programming the station after Rick Sklar was promoted. He has contributed his recollections and various promos to this web site!

Al Brady Comments
Al Brady was program director of WABC in 1979 and 1980. He comments on his tenure at WABC and some of the difficult decisions he made in trying to cope with the changing face of music on AM radio in the late seventies.

Les Marshak's WABC Odyssey
Did you know that Les Marsak started in radio at WABC? It's true! Les wrote his story and contributed additional airchecks to this web site!

Musicradio WABC Frank Kingston Smith Page
WABC Disc Jockey Frank Kingston Smith contributed some terrific "inside" stories about some of his experiences at Musicradio WABC.

Musicradio WABC Bill Epperhart Page
WABC Engineer Bill Epperhart contributed a fascinating look at what it was like to be a Studio Engineer at Musicradio WABC. Pictures included!

Bob Hardt and WABC News
Bob Hardt was the voice of WABC News every afternoon during Dan Ingram's show. It was his job to fulfill WABC's required news presence as well as to write and present the daily "Six O'clock Report".

Musicradio WABC Beatles Page
WABC successfully aligned itself with the greatest pop music phenomenon of all time: The Beatles. Here is how they did it including sound files.

Why Did WABC Have Such a Great Signal?
Yes, you really could hear WABC "everywhere" (or so it seemed). Here's why. This section also includes a history of the call letters on 770 kHz. in New York City and an actual Musicradio WABC "QSL card".

Julian Breen Remembers
Julian Breen was Assistant Program Director at WABC from 1968-1971. Here are some of his recollections of Musicradio WABC and an explanation of "The Pulse" ratings system.

The Day the Music Died
Unfortunately, it all came to an end. WABC as a radio station lives on but Musicradio WABC became Talkradio WABC on May 10, 1982. Here is why. Pictures included!
---
Musicradio WABC Pictures and Memorabilia

A Virtual Tour of the WABC studio in 1978
Pictures of the Musicradio WABC studio at 1330 Avenue of The Americas. There are 16 pictures with detailed descriptions so be patient with the download time.

The WABC Studios in 1964
Before WABC moved to the famous "Avenue of The Americas" address, it was located at 1926 Broadway in New York. We have pictures.

My Letter from Dan Ingram
My obsession with Dan and Musicradio WABC was in full swing by 1972. I wrote to Dan and got a letter back...

WABC Disc Jockeys in 1972
Musicradio WABC Disc Jockey Johnny Donovan donated these series of Jack Davis caricatures to the web page. It is a scan of a series of promotional pictures of the WABC disc jockeys from the early seventies.

WABC Musicradio Button
One of the greatest Musicradio WABC promotions was the "$25,000. button". Here's what it looked like.

A Free WABC "Music"
You'll just have to look to see what it is. A good promotion should tease you just a little...

WABC format sheet
So, lets say you were a DJ at Musicradio WABC in August of 1978. What did your playlist look like?
---

Talkradio WABC remembers Musicradio WABC in 1998
As a special, "Talkradio WABC" became "Musicradio WABC" on May 25, 1998 for twelve hours. This web site contributed a number of sound files. It was so successful in 1998 that look what happened in 1999!

WABC Rewound 1999!
On May 31, 1999 WABC presented "WABC Rewound". Classic Musicradio WABC airchecks were aired as WABC relived its glory days of Top 40 Radio. Allan Sniffen, Peter Kanze and Jon Wolfert contributed to this effort which was created by WABC's Johnny Donovan. It was a great day and this very web site was part of the inspiration for it!

WABC Rewound 2000!
The first WABC Rewound was so successful, WABC did it again in 2000! Once again, classic Musicradio WABC airchecks were aired on Memorial Day. There were a number of contributions from this web site as well as form other sources. This year, thanks to Spencer Morasch, we have pictures!

WABC Rewound 2001!
Now it's a tradition! WABC's Third Annual Rewound was as much fun as the first two. Johnny Donovan once again put together some terrific airchecks which took a year to find and restore. We again have pictures from a great day along with the "Post Rewound Talk Show" which featured Chuck Leonard and Glenn Morgan!

WABC Rewound 2002!
The Fourth Annual WABC Rewound was just as much fun as the first three. The quality of the recovered airchecks continues to improve and it really felt like Musicradio WABC had returned. The "Post Rewound Talk Show" featured both Dan Ingram and George Michael!

WABC Rewound 2003!
The Fifth Annual WABC Rewound featured new airchecks and even some vintage commercials. Johnny Donovan was the guest on the "Post Rewound Talk Show" and told some fun stories about first starting at WABC as well as the amount of work that goes into the production each year.

WABC Rewound 2004!
The Sixth Annual WABC Rewound continued the tradition. This year was made even more special by a live appearance from Dan Ingram on the "Post Rewound Talk Show"!

WABC Rewound 2005!
The Seventh Annual WABC Rewound. Has it been that long? The enthusiasm and the fun keep on coming. This year Cousin Brucie and Harry Harrison appeared on the "Post Rewound Talk Show"!

WABC Rewound 2006!
The Eighth Annual WABC Rewound. How about THAT! More great airchecks and a surprise call from Dan Ingram on the "Post Rewound Talk Show"!

WABC Rewound 2007!
The Ninth Annual WABC Rewound!

WABC Rewound 2008!
The Tenth Annual WABC Rewound!

WABC Rewound 2009!
This year, WABC only featured Rewound as an Internet only download program. The airchecks continue to be available via download at this link!
---

WABC Profiles And Tributes by Scott Benjamin
Scott Benjamin has contributed many tributes and profiles to the web site from those who worked at WABC during the Musicradio era. Here is the archive of his contributions.

Dan Ingram at the Museum of TV and Radio
"Hi, Kemosabe! A Conversation with Dan Ingram" was a presentation Dan Ingram gave at the Museum of TV and Radio in New York City on October 25, 2001. Dan spoke about his career, told some terrific stories and took questions from the audience. Pictures included!

Harry Harrison's Last WCBS-FM Show
Former WABC personality Harry Harrison did his final show on WCBS-FM on March 19, 2003. Harry spent a total of 44 years on New York radio on WMCA, WABC and WCBS-FM. This section includes airchecks and pictures from his final show!

Ron Lundy's Final Days on the Radio
Former WABC Air Personality Ron Lundy retired from WCBS-FM on September 18, 1997. This section includes pictures, airchecks of his last four shows, newspaper accounts of his retirement and a special tribute written by WABC engineer Bill Epperhart.

Big Joe's Happiness Exchange
"Big" Joe Rosenfeld did an overnight program in the early years of WABC's run as a Top 40 radio station. Information about the show has been contributed by several visitors to the web site!

The Musicradio77.com Favorite Songs Voted Surveys
From 1998 until 2006, we conducted yearly surveys of web site visitor's favorite songs. This was carefully conducted by Survey Guy Mike Riccio as a way to accurately determine what songs deserve to be at the top an all time favorite songs list.

New York Radio Message Board
Discussion of current New York Radio topics!
Thanks for stopping by and stay tuned!
Allan Sniffen
Musicradio77.com Web Master
If you have comments about Musicradio77.com, click:
E Mail Allan Sniffen
This page is not an "official" page, and is not created or endorsed by the current or former management of radio station WABC. Except where otherwise noted, the information on this page is from items I personally collected or heard actually broadcast over many years and represents my personal interpretation and opinion of those events.
All written material on the pages of this web site is the property of Allan Sniffen unless otherwise noted, and cannot be duplicated or otherwise distributed without prior written consent. Image files are either the property of Allan Sniffen or are the property of the noted contributor and also cannot be duplicated or distributed without prior written consent.