Bob Radil Discusses Rewound Radio's '60's & '70's Show
By Scott Benjamin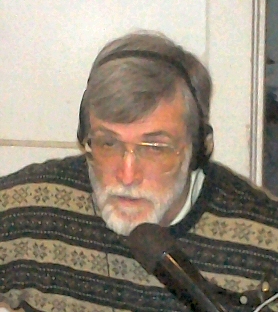 Bob Radil says sometimes rock music has narrowed the generation gap, but not to the point where he regularly plays '80s tunes on his '60s & '70s show, which airs each Friday night from 6 to 10 o'clock Eastern Time on Rewound Radio.
"It is debatable as to whether or not '80s music would bring in more listeners," he said in an April 8, 2015 interview with Musicradio77.com.
"Many people are comfortable with the music they grew up with, regardless of the style," Bob added. "For example, someone who is really in tune with 1963 may find similar selections from the '80s to be somewhat foreign."
However, he explained that people who grew up in the Big Band era of the 1940s probably have little interest in Rolling Stones hits of the '60s, but there are fewer differences between the people who grew up listening to Cousin Brucie on WABC in the '60s and those that watched the original MTV jocks in the '80s.
But there apparently still is a gap.
He said that Allan Sniffen, who operates Rewound Radio and Musicradio77.com, "has the position that '80s music and '50s and '60s music is incompatible." That is part of the reason that Allan launched Rewound Radio in 2010 since many oldies stations have adopted a Classic Hits format that includes songs from the '80s along with a reduced play list of tunes from the '60s and '70s.
"I only partially agree with that," Bob said regarding Allan's position. "There are a few selections from the '80s that I've played that fit, but I've kept that to a minimum. I'd play more but I'd rather stay pure to the 60s/70s concept and image, even if the style is compatible."
"I've also played random stuff from the '50s and earlier, but it's a case by case and for specific reasons such as an original version or a special stereo mix," he added.
Bob, who has been a chief engineer for various radio stations in Connecticut over more than 40 years, had supplied records, technical help and served as the substitute air personality before taking over the '60's & '70's show in January 2007 during the final phase of its long run on WNHU, the campus station at the University of New Haven.
It was canceled in September 2010 and Allan offered to add it to Rewound Radio just hours after Bob wrote a discussion board post about its demise.
The show, which had been broadcast from a console board at WNHU that Bob estimates cost at least $15,000, has originated since October 2010 from his full home studio in the Northford section of North Branford, CT, a rural suburb of New Haven.
Allan said that since Bob is a radio station chief engineer he was confident they could make the conversion.
However, it wasn't simple.
"I had to set my Rewound Radio software to lock on to the Internet stream he generates," Allan stated in an April 13, 2015 e-mail message. "From there I run his audio through my processing (necessary to keep all Rewound Radio levels even). I then send the output to my server which broadcasts to the Internet."
Bob said that most of the Internet audience from WNHU came along with him. However, he lost many of the broadcast listeners, who are typically less computer savvy.
Regarding content, The '60's & '70's Show doesn't follow the Musicradio77 WABC short play-list format, with the number-one hit being played every 60 minutes.
"Why do the same ol' same ol' that you can get everywhere else," Bob said regarding how it differs from other oldies shows.
The '60's & '70's Show not only plays John Fred And His Playboy Band's Judy In Disguise (With Glasses), which went to number one in early 1968, but also the group's obscure Hey Hey Bunny, which peaked at number 57 on the Billboard chart.
There also is a feature, which is researched by Survey Guy Mike Riccio, who compiles the Top 77 each year for OldiesBoard.com and Musicradio77.com, on the songs that were at number 94 on the charts that week. Also there is the Mystery 'B' Side of a record that went to the top of the charts on that week and a fourth-hour that follows a theme chosen by a listener.
Allan noted that even before going to Rewound Radio Bob had been using OldiesBoard.com for audience participation.
Bob said message boards have "bought people with common interests together." It was through OldiesBoard.com that he met Rewound Radio air personality Rich Appel, who hosts "That Thing" on Sundays, Mike Riccio, and another MusicRadio77.com Survey Guy, Tom Natoli, who all collected records and music radio surveys as they grew up.
He said that he's tried to instill a similar, friendly atmosphere on the '60's & '70's Show.
"It's as though there are bunch of people hanging out on Friday night, and I'm the one pushing the buttons," Bob explained, noting that the show has become appointment listening for some of the audience.
"He also has an encyclopedic knowledge of the music," Allan wrote. "Many times his 'off the top of his head' comments are more interesting than prepared notes would be."
His long-ad libs and steady delivery are more similar to FM album-oriented rock than the capsule intros and outros that became a trademark of the WABC All-Americans.
At least for now, Bob said that Internet radio is mostly "narrowcasting" and "there is no effective way to make a profit" since you have a relatively small audience over a large geographic base.
Nevertheless, through the years he has interviewed Florence LaRue and LaMonte McLamore of the Fifth Dimension, separately, and Ron Pell, the drummer for Alive N' Kicking.
Bob, who earned his First Class FCC license in 1972, is currently the chief engineer at WDJZ in Bridgeport, the Connecticut Radio Network, WSIN, the campus station at Southern Connecticut State University in New Haven, WCUM in Bridgeport, WMRD in Monroe, WLIS in Old Saybrook, WPRX in Bristol, and is on call at WRYM in New Britain.
He said digitization has dramatically changed the job description.
"The stuff I learned back then is useless today," Bob said referring to audio tape, cartridges and record turntables.
In those days someone had to monitor the transmitter readings and play the music, he added. Now that sometimes is done by computer.
"About the only thing that is the same from when I started is that the transmitter sends out signals," Bob said.
Except, of course, when it's Internet radio.

Rewound Radio

WABC Musicradio 77