Harry Harrison On The Best Mid-day Jock In The Greatest City In The World
By Scott Benjamin
Ron Lundy and Harry Harrison
"Back To Back"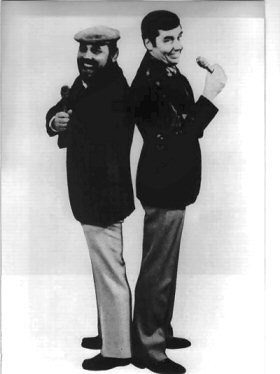 Ron Lundy followed Harry Harrison at WABC from 1968 until 1979.
He did so again at WCBS-FM from 1984 until 1997!
They did shows back to back for 24 years.
Yes they also were on mid-days on competing stations for more than two years – 1966 to 1968 – one at WABC and the other at WMCA.
But as Harry Harrison says, "Ron [Lundy] and I just went about our jobs, there wasn't any rivalry then. When I came to WABC in September 1968 to do morning drive no one welcomed me more warmly than Ron."
"He was extremely enthusiastic," said Harry. "His enthusiasm was infectious. It had a positive impact on people on and off the air at the stations. And beyond that, I never saw Ron get angry at anyone."
Harry, who is known for his conscientiousness, already had jotted some notes on Ron before he did the phone interview on August 28, 2017 with Musicradio77.com.
Perhaps listeners from the late 1960s and early-to-mid 1970s when WABC was atop the ratings in Gotham recall the interplay between Ron and afternoon drive-time air personality Dan Ingram as the transition was made from one show to another at 2 p.m.
Dan sometimes would announce early his show that Ron Lundy had left the building.
However, Harry and Ron had similar interplay during the 10 a.m. transition from morning drive to mid-day.
Harry: "Ron, I'm heading out. Can you call me a cab?"
Ron: "Harry, you're a cab."
They were back to back for 11 years at Musicradio77 and then reunited when Ron started doing the mid-days following Harry's show in April 1984. That continued until Ron's retirement in September 1997.
Harry said Ron's signature phrases – such as "Hello, Luv" and "its 10 o'clock in the greatest city the world" – are probably affectionately remembered by listeners all these many years later.
The late Bill Epperhart, a WABC engineer in the early 1970s, wrote in a Musicradio77.com tribute on Ron some years ago that he combined the best traits of a disc jockey and air personality.
Harry agreed with that evaluation.
Epperhart wrote that disc jockeys can read the index cards with the promos and know every obscure detail about the songs on the survey, but lack personality. Air personalities, he stated, are charismatic but they know little about the music or the production at the station.
He added that Ron was proficient in all areas, and former WCBS-FM program director Joe McCoy has stated that when Ron was hired at the station in 1984 he was told he would have to run his own control board, and he did with aplomb.
Harry said Ron had more freedom at WCBS-FM and was able to add to his show with the use of character voices – such as Bubba – and comedy pieces.
Jeff Berman, who was the assistant program director at WABC from 1966 to 1968, has said he has listened to air checks from Ron during his career at WIL in St. Louis, where he was immediately before arriving at WABC in 1965 to do the overnights, and Ron's shows had plenty of characters and comedy bits.
Berman has said he was disappointed that due to WABC's format, Ron couldn't deliver that kind of presentation.
Harry said that Ron's interests went well beyond his air shift and the music he played.
"He loved to read and he would sometimes tell me about what book he was currently going through," he said.
Harry said Ron missed radio during the nearly two years between WABC moving to talk format in 1982 and his arrival at WCBS-FM in the spring 1984. He had been working as an ABC staff announcer.
"Radio was a big part of Ron's life," said Harry of his friend, who died in 2010.
"He also was someone who was from the south, but was very comfortable working in New York City and then he got back to the south by moving to Mississippi when he retired."
"He and his wife, Shirley, were special people," Harry said.

WABC Musicradio 77 Home Page