Steve Gilinsky On Radio Friend Harry Harrison

By Scott Benjamin

Harry and Steve
WABC Rewound 2005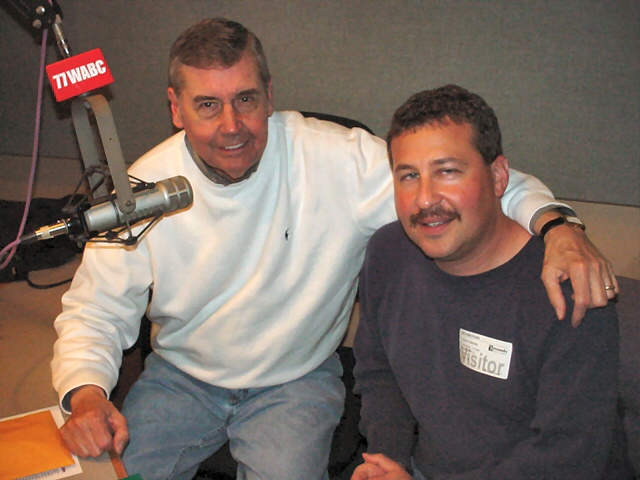 (photo Allan Sniffen)

Steve Gilinsky recalls while riding with friends in the late-1970s, he would turn the volume of the car radio up not for the music but for when the air personalities spoke on 77 WABC.
His favorite was Harry Harrison, whose booming voice woke up his "radio friends" on morning drive from September 1968 to November 1979.
Luring Harry from rival WMCA, where he had been doing the mid-day shift since 1959, was probably one of the best decisions that longtime WABC program director Rick Sklar made during his 14 years at the helm.
Former WABC Assistant Program Director Jeff Berman said in a 2005 interview that the late Herb Oscar Anderson, who had been the morning drive air personality since the station went to Top 40 in December 1960, wasn't comfortable in that format and would have been better playing Count Bassie standards at a Middle of the Road station.
"Harry came in and flawlessly made the transition and boosted the ratings," Gilinsky said in a June 26, 2017 phone interview with Musicradio77.com.
Over four hours, Harry would remind moms to put on the coffee and help the ladies with their zippers along with accompanying sound effects.
"I used to get annoyed because he would on vacation for two weeks after Labor Day each year I couldn't listen to him as we were starting the school year," said Gilinsky, now 56, who since 1989 has owned WLTB, a Top 40 station in Binghamton, N.Y. He was so devoted that he even listened to Harry on his transistor radio while his family was vacationing in Miami.
Gilinsky and Harry became friends in 2004 and a year later he accompanied him to the taping of the WABC Rewound talk show and even made a brief appearance to discuss his devotion to Harry. WABC air personality, Cousin Bruce Morrow, who, like Harry, was then on the air at WCBS-FM, concisely commented on the negative impact of the I pod-inspired JACK radio format during the other one-hour segment of the talk show.
The talk show aired the following Monday, during WABC Rewound on Memorial Day, and four days later WCBS-FM switched to the JACK format, ending Harry and Bruce's careers at the station, where they had been since the 1980s.
Gilinsky said he has received phone calls from Sirius/XM satellite radio about Harry working for them, but he has always declined.
"It isn't his kind of radio, since he wouldn't be doing the weather or speaking to a specific audience in one geographical area," said Gilinsky.
Harry had been at WABC during its peak in the late 1960s and early 1970s when reportedly up to eight million listeners a week tuned in and kids with transistor radios anxiously awaited number-one survey song to come on the air.
Afternoon air personality Dan Ingram was at WABC longer than anyone during it's nearly 22 years as a music station and has made a bundle of money from commercial voice overs.
Bruce is still on Sirius/XM and has made countless television appearances on PBS.
But, Harry did morning drive or middays on New York City radio almost continuously for nearly 45 years – from WMCA to WABC to WCBS-FM. He also was the first of the marquee former WABC air personalities to make the transition to oldies on WCBS-FM – in March 1980.
"He got the adults and got the kids to listen to him at WABC, which isn't easy," said Bruce Slutsky of Flushing, Queens, a college librarian and avid radio listener who helped launch a Facebook appreciation page for Harry in 2010, which currently has 1,527 members. Slutsky also helped establish a Facebook page for Bruce.
Gilinsky said that he estimated that about 50 million people have heard Harry since he arrived at WMCA in 1959 as its mid-day personality.
"He is the nicest and the happiest person that I have ever met," he said. "We can be walking through a shopping mall and he's saying hello to people."
Former WABC and WCBS-FM air personality Marc Sommers said in a 2017 phone interview that when he arrived at WABC in August 1979, Harry was on vacation, but he had left a note in his locker at WABC welcoming him to Musicradio77.
Gilinsky recalled that when "I was going through my divorce, Harry would call every day." He said a generation earlier, Harry tried to help the late Bob Cruz, the young WABC overnight air personality of the late 1970s, with personal problems.
When asked in a 2014 phone interview about why there was scant material about Harry in his historical novel on WABC – "Kemosabe: The Days (and nights) of a Radio Idyll" - Chris Ingram, Dan Ingram's son, said, "I didn't hear much about Harry from my dad through the years. My dad likes him and respected his work. But I think, among other things, Harry was the morning guy who was home when his children got back from school in the afternoon and wasn't staying out at clubs and restaurants at night and therefore there weren't a lot of anecdotes."
"I don't know of anybody who is closer to his children," Gilinsky said of Harry's relationship with his two sons, Michael and Patrick, and his daughter, Patti, who is an administrator and contributor at the Facebook appreciation page.
Harry has always referred to his late wife as "Pretty Patti."
Their marriage was an extended date.
"They had a phenomenal relationship," said Steve. "He will still talk about her all the time. His whole life was Patti."
Gilinsky, who has lunch with Harry "two to three times a year," still listens to air checks of his WABC shows.
He said, "It's amazing the memories that they bring back, because I listened to some of those air checks when they were live."

WABC Musicradio 77 Home Page