Profile Of Patti Harrison
By Scott Benjamin

Patti Harrison says that she always couldn't sleep the night before she and her three brothers – B.J., Patrick and Michael – made their annual pre-Christmas appearance on their father's morning drive Musicradio77 WABC show.
Musicradio77.com has reported that by the early 1970s Harry Harrison had four million listeners as he reminded mom to make sure the coffee was on and wished everyone "the very best. . . that's exactly what you deserve."
"He was so smooth and so natural on the air," Patti said in a January 28, 2018 phone interview with Musicradio77.com
During that special four-hour show, Patti, the oldest of the children, and her brothers "would announce our Christmas wishes, and dad would always remind us to keep them short and sweet," she recalled. Harry recorded those messages on cassettes and compact discs that he gave as gifts to his children.
"I think I was more interested in it than my brothers were," she added. "I would ask questions about radio and took a liking to it."
She was one of the students who did the morning announcements on the intercom at Northern Valley Regional High School in Old Tappan, New Jersey and decided she wanted to major in Broadcasting in college.
Even though her father was in the midst of a 46-year run in New York City radio – starting at WMCA in 1959 to WABC from 1968 to 1979 and WCBS-FM from 1980 to 2005 – he cautioned her: "It's not as easy as you might think. You might want to have a second major."
After being denied at her first choice, Boston College – a school that regularly is rated in the Most Competitive category in the college guides – she went for a year to New Jersey's Fairleigh Dickinson University, earned straight A's, worked at the college radio station and performed in a campus theater production.
That was good enough to get her into Boston College, where she "couldn't believe how challenging it was."
But Patti said she followed Harry's advice.
"He taught me that old-school and hard work and being persistent would pay off," she said. "I saw him come home and write and address letters with autographed photos for his fans. He didn't want a secretary doing it."
Patti majored in Communications, which included classes in marketing and advertising, and in Broadcasting and was on the air at the campus station.
That led to an internship at WHTT-FM, the Top 40 CBS owned and operated station in Boston.
"I highly recommend doing an internship, because it landed me a job and a career," said Patti.
One day when an air personality was absent due to a family emergency the new program director put her on the air and then said after graduation two months later she could do the overnight show.
After getting her diploma with the Class of 1985 – which also included Heisman Trophy winner Doug Flutie and WCBS-TV 2 New York Emmy Award-winning weather forecaster Lonnie Quinn – she worked as an air personality and traffic reporter in Boston for about five years and then went to Providence, R.I.
Patti said that as an air personality in the 1980s, she didn't have many female role models and added that "to this day there probably are not enough women on the air on radio."
She went through several radio positions in Providence, always landing on her feet, but decided after about 10 years there that it was time "to move to a new chapter" in her life.
Patti now works as a part-time sales and marketing specialist for a small company in New Jersey and also has recently been working in a studio with a coach to produce a demo for voice-over auditions.
"It's still my passion," said Patti, who hopes to voice commercials for some New Jersey clients.
She said she marvels at the marriage between Harry, who still lives in Bergan County, New Jersey, and her late mother – whom he affectionately called "Pretty Patti."
"They were best friends," Patti said. "They set the bar so high."
She said Harry regularly would say hello to strangers in department stores and the supermarket.
"He wanted to do anything to make people smile," said Patti. "If they were complaining about working in a store on a hot day he would remind them that they had air conditioning while they were working."
His friends go back generations. The other day former WMCA engineer Phil Cecchini paid him a visit. The late Ruth Meyer, who was the program director at WMCA during its 1960s hey days, said in a 2007 interview with Musicradio77.com that she corresponded with Harry for years.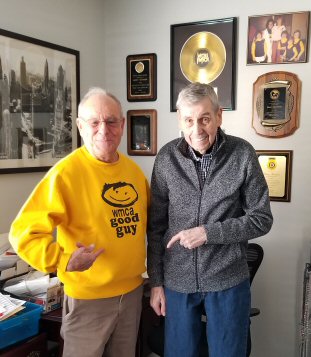 Patti said he rejected his family's suggestion years ago to get an EZ Pass card for the toll booths going to New York City for his air shifts since he wanted to interact with the toll collectors.
She said when he ended his weekday morning run at WCBS-FM in March 2003 during a broadcast from the Museum of TV and Radio in New York City he didn't leave until he had greeted every person in the audience and had signed every autograph.
Patti explained, "He makes people feel good about themselves."

WABC Musicradio 77 Home Page