Tommy Edwards

Profile


By Scott Benjamin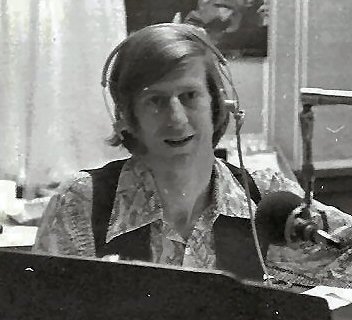 Tommy Edwards on the air at WOR-FM
(courtesy Tommy Edwards)
Famed radio air personality Tommy Edwards is known for more than just telling Animal Stories on the radio and describing the exploits of Air Jordan to an SRO crowd in the Windy City.
Fun anecdotes on Tommy's relationship with the Big Apple:
He auditioned for the all-night show at WABC in late 1969, just months after Charlie Greer departed. . .
Tommy did the noon to 3 p.m. show at WOR-FM in the early 1970s as the Top 40 station made in-roads on WABC's audience. . .
His hiring at WLS in 1972 apparently resulted from an effort by WABC program director Rick Sklar to disrupt the WOR-FM line-up as it became a bigger ratings threat to WABC. . .
He produced the Musicradio Music Remembrance montage with brief clips of the songs that were hits from 1960 to 1982. The montage ran more than 30 minutes during the emotional final hour before WABC made its transition in May 1982 from Musicradio77 to Talk Radio.
Tommy, who began his radio career while in high school student in Kansas, was an air personality WEAM in Washington, D.C. while he was stationed at the Pentagon during his three and a half years in the Navy.
He stated doing weekend shifts at WOR-FM near the end of his hitch, and after being discharged he was on the air full-time by early November
Then Musicradio77 WABC Program Director Rick Sklar had him do an off-air audition at the station for the all-night show, which included reading the commercials for Dennison's, the men's clothier in Union, N.J. that stayed open until 5:30 a.m.
This was while Les Marshak had temporarily taken over the all-night show following Roby Yonge's abrupt dismissal for discussing the rumors that "The Beatle Paul" had died.
Rick offered Tommy the job, but the management of WOR-FM told him he was under contact with them. Months later Jay Reynolds began a six-year stint on the all-night show.
Tommy recalled that WOR-FM was "getting into some of the key demographic areas, such as 18-24 and 18-34 to the point that it was making some in-roads on WABC."
Rick Sklar reportedly was fretting about WOR-FM from the time it first posted a measureable rating in early 1968.
Tommy said in a January 28, 2016 phone interview with the WOR-FM tribute Web site that during the day WOR-FM would alternate between one current hit and a solid gold song and have one album cut per hour. At night, "it trended younger," he added, with a longer list of current hits and fewer solid gold tunes. There still was one album cut per hour.
On the walls of the studio had long lists of words that the air personalities should use on the air in the strict Bill Drake format in which they mostly spoke briefly over the instrumental opening to a song and then briefly again at the end.
"There was no place for idle chatter," Tommy recalled "What you said had to be compelling to the audience."
Program Director Sebastian Stone listened all the time, even calling at 2 a.m. on the hotline."
In 1972 Tommy was hired at WLS, the ABC owned and operated affiliate in Chicago, as the production director and a utility air personality at about the same time that WOR-FM colleague Johnny Donovan was hired as a utility air personality at WABC.
Reportedly Rick Sklar, who was concerned about WOR-FM's impact, engineered both transactions in an effort to slow its momentum.
Johnny said during the 2003 WABC Rewound talk show that there might be truth to that report, since he signed his contract and after sitting at home for three days finally called Rick to find out what his shift would be.
"I probably got the job offer because of the concern over WOR-FM's impact, Tommy said.
At the time WLS was pitched in a ratings battle with WCFL, also on the AM dial, for Chicago's Top 40 market.
Tommy said there was less FM penetration in Chicago than in New York City in the early 1970s, primarily because WLS and WCFL aired hits before anyone else, had popular contests and entertaining jingle packages
Production has long been one of Tommy's fortes. In the early 1970s he produced the first radio commercial for Walt Disney World that aired outside of the Orlando area and later assembled the Musicradio Music Remembrance that was featured in the final hour of WABC's tenure as a music station in May 1982.
In 1973 he became WLS' program direction and occasionally flew to New York to "share information" with Rick Sklar.
"As a program director you have to both challenge and police the talent," said Tommy, who later held similar positions in Los Angeles and Boston.
He said he watched Rick Sklar tell Cousin Brucie, the legendary WABC evening air personality, that he had a secretary monitor his show the night before during the seven o'clock hour and he hadn't mentioned the call letters enough times.
Tommy will probably always be linked with his close friend, longtime Chicago air personality Larry Lujack, who he teamed with to read Animal Stories, a feature in which Larry read and Tommy reacted to offbeat farm stories. The feature drew a wide audience and generated thousands of dollars for children's charities through the sales of compact discs.
"I've heard many people through the years say that because of the Animal Stories with Larry and me that it motivated them to get into radio as a career," said Tommy, who retired from radio in September 2014.
In Chicago, Larry, who was noted for his gravelly voice and sometimes sarcastic wit, was known as "Superjock."
Tommy said he found Larry to be a cold person when they first met at WLS in the early 1970s, but soon discovered that he extremely likeable and eventually Larry became his best friend.
He was one of a small handful of people who Larry confided to about the cancer that he died from in December 2013.
Tommy a longtime basketball fan, has been the public address announcer for the Chicago Bulls for 24 years (1976-1990, 2006-present), an era that spans Bob Love, Michael Jordan and Paul Gasol.
He said the job is similar to being an air personality in that you have an "authoritative delivery." Perhaps the biggest difference is that you have to know the referees hand signals so that you can announce them to the fans and reporters at courtside.
Tommy also has to go through a criminal background check and pledge not to bet in Las Vegas on basketball games.
Tommy said he "never saw a more competitive person" than Jordan, a Hall of Famer who is considered by some to be the best to ever play the game.
He said Jordan interacts more easily with people than has been sometimes portrayed in the news media, and, in particular, was extremely accessible when he was a rookie in 1984-85.
"When he first arrived he would do anything for anybody and was so generous," Tommy recalled. "The front office of the Bulls had to tell people to stop asking for autographs and favors because it could become a distraction."

WABC Musicradio 77