WOR-FM/WXLO Walt Baby Love Profile
by Scott Benjamin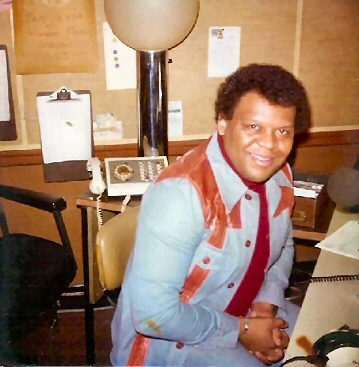 Walt Baby Love Behind the 99X mic in 1975
(courtesy Storm N Norman)


Walt Baby Love
99X
February, 1974
When air personality Walt (Baby) Love arrived at WOR-FM in September 1970 he heeded the words of the station's program director, Sebastian Stone, who told the air staff to not "go overboard and be like the other Top 40 stations. Be more mellow."

"It was a big change for me," said Walt, who had arrived from the high-energy CKLW in Canada. "I had to calm down and take the edge off my approach."

"All of us at WOR were individuals," he said in a Jan. 12, 2010 phone interview with the WOR/WXLO tribute Web site. "It was not a cookie-cutter operation."

WOR "was a unique, classy version of Top 40 FM," Walt said.

Walt's interest in radio began while he served in the Army, which included a stint in 82nd Airborne Division.

Jeff Troy, a junior high school/high school friend from Arnold, Pa., which was a neighboring town to Creighton, Pa., where Walt grew up, was an air personality at WWRL in New York City and had introduced him to Chuck Leonard, who in 1965 made history when after seven weeks at WWRL he was hired at Musicradio77 WABC, making him the first African-American air personality to reach such a plateau.

"I believe it did," Walt said when asked if Chuck's hiring led to more opportunities for African-American air personalities.

He stated in his 2007 autobiography "The Gospel According Rev. Walt Baby Love: Inspirations And Meditations From The Gospel Radio Legend" ($22.95, 209 pages, Simon & Schuster), that Jeff and Chuck would send tapes of their shows, which Walt played for his friends in the Army.

"As I listened to their tapes, I thought again and again What a way to make a living!" Walt wrote.

"Chuck was very cool, calm and could ad-lib easily," he said in the phone interview. "He was a real pro."

"After I got on the air, Chuck told me, 'You have to do something that is different and that is unique to you,' " Walt recalled.

"So I became the friendly guy who lives next door," he said.

Walt became the first African-American air personality in the Bill Drake chain.

His real name is Walt Shaw, but he noted in his autobiography that in 1969, Bill Young, the program director at KILT suggested that since they had an air personality named Rick Shaw, Walt should get a different last name.

He chose Walt Love, which, according to the book, became Walt (Baby) Love when Steve Lundy, who had the show preceding him, played the Supremes "Baby Love" immediately before Walt came on the air. Steve called him "Walt (Baby) Love," and that has been his air name ever since.

His work in Houston, Detroit and then at CKLW led to his hiring at WOR, which in the early 1970's had a talented line-up, which included Johnny Donovan, who later was an air personality at WABC from 1972 to 1982 and continues at the station today as its production director.

Walt said when he told Chuck Leonard of his hiring at WOR-FM, "Chuck said, 'That is great. I'm so proud of you. I will do anything to help out.' "

"He had a lot of confidence in himself and had his ego in control," he said of Chuck, who would spend 14 years at WABC doing the late night show during the week and Sunday air shifts.

"He showed me New York City," Walt said. "He didn't have to do that."

He said after WOR-FM changed its call letters to WXLO in 1973, the station quickly went through three phases.

Walt said Program Director Mel Phillips "knew good radio and knew how to teach people."

He said under Program Director Jerry Clifton it became known as 99X and put more emphasis on contests, such as $100 bill giveaways as the station went "after the teens and figured that maybe the 34 year olds also will show up."

Walt said that WABC, as a competitor, started to do more contests to "protect their turf."

He said that Rick Sklar, the legendary program director at WABC, seriously considered hiring him in the summer 1974 to succeed Cousin Brucie on the night show after Brucie announced that he was leaving to join WNBC.

Walt said that he has known Rick since Chuck Leonard had introduced them some years earlier.

"He was very complimentary of my work and saw the ratings that I had on FM," he said.

"However, the higher-ups at WABC didn't want to have two blacks in Chuck and me going back to back at night," Walt said, making reference to Chuck's late night show that followed Brucie's show.

Glenn Morgan, the program director under Rick, who was then the operations manager at WABC, has written at Musicradio77.com that he lobbied to have George Michael, then with WFIL in Philadelphia, succeed Bruce.

He made no reference to Walt in the story that he wrote for Musicradio77.com.

George started doing the show in September 1974 and continued at WABC into November 1979 before becoming a successful sportscaster in Washington, D.C.

By the time WXLO was into its third phase, Walt went to Chicago's WVON, where he was operations manager for the FM station and program director for the AM station.

"I didn't want to be an air personality my whole career," he said.

However, before long, Mel Phillips became the program director at WNBC and brought Walt to 66 on the dial and also added Joe McCoy, who had worked at WOR-FM, to that station in 1976.

Joe would later spend 23 years as the program director at WCBS-FM.

He said in a January 2009 phone interview with Musicradio77.com that he and legendary morning air personality Don Imus sometimes talked about how WNBC was not programmed as an aggressive Top 40 station and was able to "butt heads" with WABC the way the smaller, 5,000-watt WMCA had in the 1960's.

Walt said he agreed with Joe's perspective.

"AM was still the king in New York," he said regarding what apparently was the last phase before WKTU went to a disco format and supplanted WABC in 1978 as the leader in the New York City market.

"WNBC needed to be more aggressive musically and emotionally," Walt said. "We had some good people on the air, but didn't promote the station enough."

He said he was impressed with Cousin Brucie, who worked both at night and in the mid-day during his three years at WNBC.

"Brucie was very kind," Walt said. "People walk up to Brucie and he smiles and says something to make them happy."

He said he got along well with Imus, who has been noted for making racial remarks during his career.

"He was all right to me," he said of longtime air personality who now is at TalkRadio77 WABC. "I think he knew that some of the things he said about blacks weren't going to work with me."

Walt and the other air personalities of the mid 1970's at WNBC left in August 1977 when the station hired Bob Pittman, who was 23 years of age at the time, to program WNBC, which for about two years became an FM rock station on AM.

Walt then went to Los Angeles, where he worked as operations manager at KGFJ and KUGE.

He also was the urban radio editor for 21 years at Radio & Records.

In the early 1980's Norman Pattiz, the founder and chairman of Westwood One asked Walt is he had "any ideas" for a syndicated show.

A short time later, he created the Countdown with Walt (Baby) Love, which has been on the air since August 1983, making it the longest running R & B syndicated show in history.

It has been a six-time winner of Billboard magazine's award for best R & B syndicated show.

Walt also hosts the Urban AC Countdown and Gospel Traxx.

He lives in Agoura Hills, Calif., near Malibu, with his wife, Sonya, and their son, Stephan, 17, an accomplished high school basketball player who is receiving interest from some college scouts.

In October 1996 Walt was diagnosed with kidney cancer and underwent surgery to remove one of his kidneys and is now cancer free.

He has been cancer-free since and he said physicians have labeled his condition "a miracle."

Walt and his wife head the Walt & Sonya Love Foundation or Cancer and Lupus Research, a non-profit organization.

At the urging of the Rev. K.L. Johnson, the preacher at his wife's church, the First House of Prayer on Chicago's South Side, he became a minister, graduating with a master's degree from the Fuller Theological Seminary.

Walt is an associate minister at the First AME Church of Los Angeles.

"I laughed at him when he first told me that I would become a preacher," he recalled.

Now he is proud to share God's blessings.