Chris Ingram Gives Musicradio 77 The Fictional Treatment
By Scott Benjamin
Chris Ingram and Dan Ingram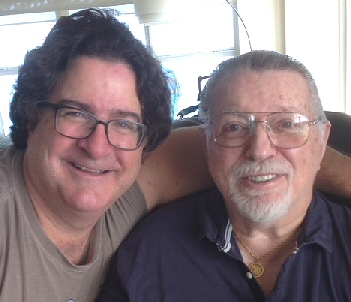 November 6, 2014
The Day The Music Died: May 10, 1982, when Musicradio77 WABC, the most listened to station in the nation during its heyday as a Top 40 rocker, became talk radio.
The talk format continues more than 32 years later – about 11 years longer than WABC was playing Top 40 music.
Yet, the legacy of Musicradio 77 continues.
Former WABC air personalities - such as Harry Harrison, Ron Lundy, Bruce Morrow and Dan Ingram - spent several years announcing oldies on WCBS-FM. In 1996 Musicradio77.com became a tribute site with air checks, historical data and profiles, and in the most recent years Rewound Radio.
The popularity of Musicradio77.com inspired WABC Talk Radio to devote Memorial Day each year from 1999 through 2008 to WABC Rewound, as the station broadcast air checks from its Top 40 era. That led in 2005 to Saturday Night Oldies, a nostalgia talk show that also included some of the Top 40 music of the 1960s and 1970s and the Musicradio77 jingles.
Now, Big Dan Ingram's son, Chris Ingram, drawing primarily on material "from just listening to my father as I was growing up," has written a novel that is set against the backdrop of Big Dan and Musicradio77 WABC, which was so popular that you could stroll the beach without a radio and listen to it from the surrounding transistors and boom boxes.
Chris said he plans to complete treatments this winter for a possible television series or movie based on Hey Kemosabe!: The Days (and nights) of a Radio Idyll (Dog Ear Publishing, 159 pages). The book is available from Amazon for $13.46 new in paperback and $9.99 for a Kindle version.
There are chapters on Dan Ingram's overnight audition tape that resulted in his becoming the Musicradio77 afternoon drive air personality; Beatlemania; the hilarious brief showers episode between Dan and Cousin Brucie; the air personalities' night life in Manhattan; Roby Yonge's broadcast of Paul Is Dead"; and Big Dan's attempt to become a morning television host.
It also has anecdotes related to Dan's friendship with fellow air personalities Ron Lundy and Chuck Leonard, whom Chuck once described as "the three Musketeers."
It also is partly a story of the influence that Top 40 air personalities had in an era before YouTube, Facebook and Twitter and play lists that included everything from The Beatles to The Temptations to Cream to Jeanne C. Riley and The 1910 Fruitgum Company.
Chris said Musicradio77.com was another prime source, and included Allan Sniffen, the tribute site's Web master, in the book's acknowledgements.
"Chris Ingram gives you an inside peak. It's part nostalgia, part history and part big time radio fun," Allan wrote in a review posted at Amazon. "If you were there, you'll like the look back. If you weren't, you'll find out what it was your parents thought was so compelling about the voices that accompanied the music that virtually every one of a certain age listened to."
"I think that the characters are compelling enough so that people of all ages can relate to them," Chris said during an Oct. 29, 2014 phone interview with Musicradio77.com. "I have friends who have said their children who are in their late 20s or early 30s enjoyed the book."
"It's a pretty quick read," Chris said. "I think my style appeals to the younger generation as a result of my pacing."
He said since it was published in July, nearly 1,000 copies have been sold, which is the profit point. Apparently a number of them are listeners who have fond memories of Big Dan's Honor Group of the Day and Cousin Brucie's Tuesday night Top 20 countdown.
Chris, a former writer for CBS News and an air personality who until recently was doing weekend afternoons at WRMF in West Palm Beach, FL., emphasized that Hey Kemosabe! is "fiction" and not "a biography."
Some readers apparently would have preferred a conventional biography.
Bruce Slutsky, a librarian and former WABC listener who participated in the station's 2007 Rewound cruise that featured Dan and Cousin Brucie, wrote on his blog that the fictional treatment "is the serious weakness of the book. The reader does not know whether an event is fact or fiction or whether an actual event is exaggerated."
"As to not knowing what is 'real' and what is exaggerated, well, that is exactly my intent," Chris said. "I can't claim to know what was going through the minds of these characters any more than anyone else can. So whether it's the inner psyche of a character, or an invented event, seeking what is 'real' misses the point. The work is historical fiction, using, as historical fiction does, real people and events as a jumping-off point."
"This being comparatively recent history, it may displease a reader with knowledge of some of the actual events," he added. "But that, I think, comes down to a matter of personal taste. I would suffice it to say that I have heard from numerous people who 'were there' and the feedback has been warm and enthusiastically positive."
Slutsky, who wrote that he wanted to provide "constructive criticism" and "not bash the book," also stated that there was a "lack of chronological order."

Chris said, "As for the order in which I chose to write the story, chronology simply took a back seat to character development. I wrote in an order that I thought best moved the story line forward."
He said he considered writing more about legendary ABC sports commentator Howard Cosell, who did the American Contemporary Network's 5:25 p.m. sportscast on his father's show, where Big Dan would often announce that it was "time to broach the Coach," which was Howard's nickname at WABC.
However, Chris said that effort would have "sidetracked" him in presenting some of the other characters.
"No doubt, he was a huge figure and there is nobody in sports-casting today as articulate as Howard was," he said
Chris also acknowledged that there is scant material on Harry Harrison, who was the morning drive air personality from 1968 to 1979 and then spent nearly 25 years at WCBS-FM.
"I didn't hear much about Harry from my dad through the years," Chris said. "My dad likes him and respected his work. But I think, among other things, Harry was the morning guy who was home when his children got back from school in the afternoon and wasn't staying out at clubs and restaurants at night and therefore there weren't a lot of anecdotes."
He said many of the Musicradio77 air personalities were very intelligent, which helped them in presenting individual personas.
"Additionally, most of them were so intelligent that they could have done well on the talk radio circuit," Chris added.
Nearly three years ago, Chris stopped doing the morning drive at WVOS-FM in the New York state Catskills and moved to Ft. Lauderdale, FL, just two miles from where Dan and Maureen, his wife of 27 years, live.
"I think I now have my best relations with him," he said of their regular contact.
Chris said his father, who also was one of the top voice-over announcers for decades, is enjoying life from a home that overlooks a beach.
"I think that my dad is one of those people who doesn't need to have a level of fame," he said. "He doesn't have to continue to be the Dan Ingram."
Chris said that it wasn't until years after WABC's music radio demise that his father "really appreciated how much he meant to so many people."
He said that realization began when his father started working weekends at WCBS-FM in 1991 and escalated as Musicradio77.com, WABC Rewound and Saturday Night Oldies were developed over the subsequent years. Dan was a frequent guest on the WABC Rewound and Saturday Night Oldies shows.
"He was hearing about the impact he had from adults who had listened to him since before they were in their teens," Chris said.

WABC Musicradio 77 Home Page