The Top 100 Hits of 1968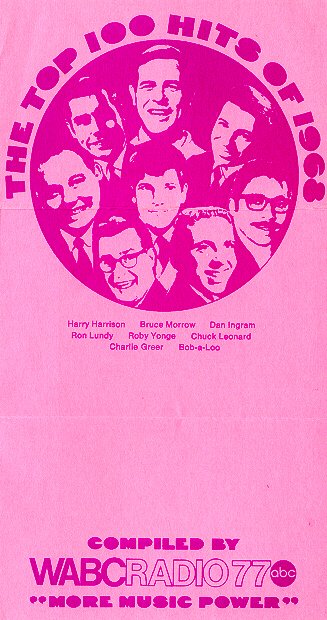 Chuck Leonard rocks his way through New Years Eve 1968 and rings in the brand new year of 1969. Chuck's very personable style comes through on this aircheck along with his smooth, up-tempo radio personality (courtesy Henry Cotterill).
One of the songs Chuck plays on this aircheck is Richard Harris' "MacArthur Park". In his book "Rocking America", legendary WABC Program Director Rick Sklar tells the story of how WABC was responsible for making this record into a huge hit. This is a classic example of the popularity and power of WABC in those days.
Rick wrote:
Our first April WABC weekly music meeting began like many others. Disc jockeys Ron Lundy and Dan Ingram, a production assistant, our music librarian, my secretary, and I gathered in my office.
On this particular day we had an ABC dub under consideration. I glanced at the handwritten label. The reason why ABC had been afraid to start pressing the discs in quantity was obvious. At a time when most records ran two and a half or three minutes, this daring effort ran seven minutes.
I put "MacArthur Park" on the turntable, cued it up, and hit the start button. We sat back and listened. This record was not only long, it was different.
The lyrics were full of poetic imagery. The composition was broken into contrasting movements like a miniature symphony. A second melody line was introduced for a lengthy instrumental portion of the record. As it played, a silence fell over the meeting. Because the door was open, secretaries passing by stopped, slipped into the room, and sat down on the floor entranced. By the end of the song, there were half a dozen extra people at the music meeting. No one wanted to leave. They wanted to hear it again. I played the song once more. Some of the young women began to sing along with it. The music had reached some special place in all of them. I decided to add "MacArthur Park" to the WABC playlist.
After the meeting ended, my telephone lines were jammed with the usual deluge of calls from record companies and music publishers eager for the results of our deliberations. When I told ABC's local promotion director, Mickey Wallach the news, he panicked.
He asked that we at least give them a week to get the record out to the stores on a rush basis, and I agreed.
The following Tuesday, "MacArthur Park" was played on WABC. Within five weeks, by mid May, it had sold over a half million copies and was headed for the top of the charts. Virtually every other Top Forty station in the country had added it.
The power of Musicradio WABC. Awesome.


Mp3


Real Audio
The Musicradio WABC Top 100 of 1968

Courtesy of the WABC Musicradio 77 Internet Web Site
www.musicradio77.com
1 "Hey Jude"...........................................The Beatles

2 "Young Girl".........................................Gary Puckett and the Union Gap

3 "People Got to Be Free"..............................The Rascals

4 "Mrs. Robinson"......................................Simon and Garfunkel

5 "Love is Blue".......................................Paul Mauriat

6 "Beautiful Morning"..................................The Rascals

7 "Those Were the Days"................................Mary Hopkin

8 "MacArthur Park".....................................Richard Harris

9 "This Guy's in Love With You"........................Herb Alpert

10 "Simon Says"........................................The 1910 Fruitgum Company

11 "Honey".............................................Bobby Goldsboro

12 "Cry Like a Baby"...................................The Box Tops

13 "Born to Be Wild"...................................Steppenwolf

14 "Love Child"........................................Diana Ross and the Supremes

15 "Tighten Up"........................................Archie Bell and the Drells

16 "Stoned Soul Picnic"................................The Fifth Dimension

17 "Green Tambourine"..................................The Lemon Pipers

18 "Judy in Disguise (with Glasses)"...................John Fred and his Playboy Band

19 "Lady Willpower"....................................Gary Puckett and the Union Gap

20 "Harper Valley P.T.A."..............................Jeannie C. Riley

21 "Lady Madonna"......................................The Beatles

22 "Hello I Love You"..................................The Doors

23 "Light My Fire".....................................Jose Feliciano

24 "Valleri"...........................................The Monkees

25 "Turn Around, Look at Me"...........................The Vogues

26 "Woman, Woman"......................................The Union Gap

27 "Jumpin' Jack Flash"................................The Rolling Stones

28 "Hurdy Gurdy Man"...................................Donovan

29 "Little Green Apples"...............................O. C. Smith

30 "Midnight Confessions"..............................The Grass Roots

31 "Mony Mony".........................................Tommy James and the Shondells

32 "Bend Me, Shape Me".................................The American Breed

33 "Reach Out of the Darkness".........................Friend and Lover

34 "(Sittin' on) The Dock of the Bay"..................Otis Redding

35 "Spooky"............................................The Classics IV

36 "Sunshine of Your Love".............................Cream

37 "Yummy Yummy Yummy".................................The Ohio Express

38 "Hush"..............................................Deep Purple

39 "Angel of the Morning"..............................Merrilee Rush

40 "Theme from Valley of the Dolls"....................Dionne Warwick

41 "Magic Carpet Ride".................................Steppenwolf

42 "1-2-3 Red Light"...................................The 1910 Fruitgum Company

43 "I've Gotta Get a Message to You"...................The Bee Gees

44 "Baby, Now That I've Found You".....................The Foundations

45 "Hello, Goodbye"....................................The Beatles

46 "Since You've Been Gone"............................Aretha Franklin

47 "Fire"..............................................The Crazy World of Arthur Brown

48 "The Horse".........................................Cliff Nobles and Company

49 "The Good, The Bad and the Ugly"....................Hugo Montenegro

50 "Classical Gas".....................................Mason Williams

51 "Chain of Fools"....................................Aretha Franklin

52 "Daydream Believer".................................The Monkees

53 "I Heard it Through the Grapevine"..................Gladys Knight and the Pips

54 "The Mighty Quinn"..................................Manfred Mann

55 I Wish It Would Rain"...............................The Temptations

56 "Elenore"...........................................The Turtles

57 "Nobody But Me".....................................The Human Beinz

58 "Cowboys to Girls"..................................The Intruders

59 "White Room"........................................Cream

60 "Love Is All Around"................................The Troggs

61 "Just Dropped In"...................................The First Edition

62 "Dance to the Music"................................Sly and the Family Stone

63 "The Unicorn".......................................The Irish Rovers

64 "The Look of Love"..................................Sergio Mendes and Brasil '66

65 "The Fool on the Hill"..............................Sergio Mendes and Brasil '66

66 "Who's Making Love".................................Johnny Taylor

67 "Grazing in the Grass"..............................Hugh Masekela

68 "Chewy Chewy".......................................The Ohio Express

69 "For Once in My Life"...............................Stevie Wonder

70 "Abraham, Martin and John"..........................Dion

71 "The Ballad of Bonnie and Clyde"....................Georgie Fame

72 "Dream a Little Dream of Me"........................Mama Cass

73 "I Second That Emotion".............................Smokey Robinson and the Miracles

74 "Different Drum"....................................The Stone Poneys

75 "Stormy"............................................The Classics IV

76 "The Time Has Come Today"...........................The Chambers Brothers

77 "Think".............................................Aretha Franklin

78 "Over You"..........................................Gary Puckett and the Union Gap

79 "Do You Know the Way to San Jose"...................Dionne Warwick

80 "Delilah"...........................................Tom Jones

81 "My Baby Must Be a Magician"........................The Marvelettes

82 "Girl Watcher"......................................The O'Kaysions

83 "Both Sides Now"....................................Judy Collins

84 "Summertime Blues"..................................Blue Cheer

85 "My Special Angel"..................................The Vogues

86 "You're All I Need to Get By".......................Marvin Gaye and Tammi Terrell

87 "I Love How You Love Me"............................Bobby Vinton

88 "Playboy"...........................................Gene and Debbie

89 "La La Means I Love You"............................The Delfonics

90 "Nothing Like The Real Thing".......................Marvin Gaye and Tammi Terrell

91 "We're a Winner"....................................The Impressions

92 "Hold Me Tight".....................................Johnny Nash

93 "Indian Lake".......................................The Cowsills

94 "Will You Still Love Me Tomorrow"...................The Four Seasons

95 "Pictures of Matchstick Men"........................The Status Quo

96 "Susan".............................................The Buckinghams

97 "Court of Love".....................................The Unifics

98 "Goin' Out of My Head/Can't Take My Eyes Off You"...The Lettermen

99 "Wichita Lineman"...................................Glen Campbell

100 "Do It Again"......................................The Beach Boys
For additional information, contact Allan Sniffen

Full Length WABC Airchecks Page

WABC Musicradio 77 Home Page