The Top 100 Hits of 1969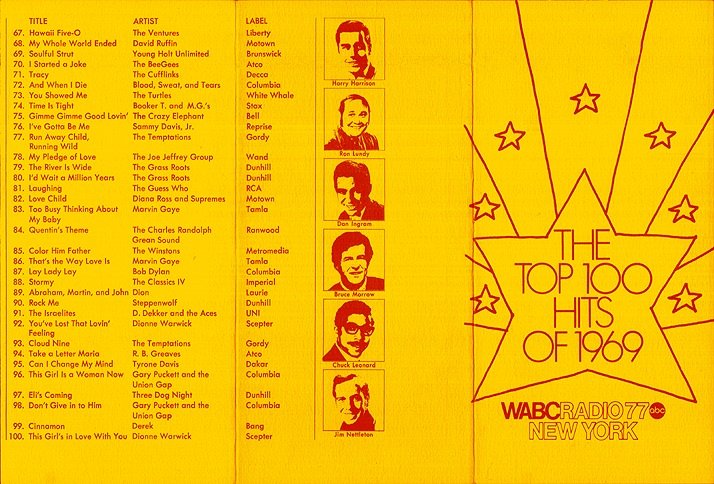 December 26, 1969. If you were a fan of music, radio, or surveys this was what you waited for. The WABC Top 100 of the Year. Here's Dan Ingram's entire show from that day as he played the hits for the entire year of 1969.
This is exactly what was heard that day. Thanks to Charles Bluhm for this contribution!
The Musicradio WABC Top 100 of 1969

Courtesy of the WABC Musicradio 77 Internet Web Site
www.musicradio77.com
1 "Aquarius/Let the Sunshine In".......................The Fifth Dimension

2 "Sugar, Sugar".......................................The Archies

3 "Honky Tonk Women"...................................The Rolling Stones

4 "Get Back"...........................................The Beatles

5 "Crimson and Clover".................................Tommy James and the Shondells

6 "Dizzy"..............................................Tommy Roe

7 "Jean"...............................................Oliver

8 "Build Me Up, Buttercup".............................The Foundations

9 "Touch Me"...........................................The Doors

10 "Hair"..............................................The Cowsills

11 "Sweet Caroline"....................................Neil Diamond

12 "Crystal Blue Persuasion"...........................Tommy James and the Shondells

13 "Everyday People"...................................Sly and the Family Stone

14 "Good Morning Starshine"............................Oliver

15 "In the Year 2525"..................................Zager and Evans

16 "I Can't Get Next to You"...........................The Temptations

17 "Love Theme from Romeo and Julliet".................Henry Mancini

18 "Proud Mary"........................................Creedence Clearwater Revival

19 "Spinning Wheel"....................................Blood, Sweat and Tears

20 "One"...............................................Three Dog Night

21 "Love (Can Make You Happy)".........................Mercy

22 "Traces"............................................The Classics IV

23 "You've Made Me So Very Happy"......................Blood, Sweat and Tears

24 "This Magic Moment".................................Jay and the Americans

25 "Worst That Could Happen"...........................The Brooklyn Bridge

26 "I Heard it Through the Grapevine"..................Marvin Gaye

27 "It's Your Thing"...................................The Isley Brothers

28 "A Boy Named Sue"...................................Johnny Cash

29 "Wedding Bell Blues"................................The Fifth Dimension

30 "Get Together"......................................The Youngbloods

31 "Easy to Be Hard"...................................Three Dog Night

32 "Little Woman"......................................Bobby Sherman

33 "I'm Gonna Make You Love Me"........................The Supremes & The Temptations

34 "These Eyes"........................................The Guess Who

35 "Baby, It's You"....................................Smith

36 "I'll Never Fall in Love Again".....................Tom Jones

37 "My Cheri Amour"....................................Stevie Wonder

38 "Hooked on a Feeling"...............................B.J. Thomas

39 "Smile a Little Smile For Me".......................The Flying Machine

40 "Baby, I Love You"..................................Andy Kim

41 "Time of the Season"................................The Zombies

42 "Suspicious Minds"..................................Elvis Presley

43 "25 Miles"..........................................Edwin Starr

44 "Hot Fun in the Summertime".........................Sly and the Family Stone

45 "Love Me Tonight"...................................Tom Jones

46 "What Does it Take (to Win Your Love)"..............Jr. Walker and the All Stars

47 "Grazing in the Grass"..............................Friends of Distinction

48 "Bad Moon Rising"...................................Creedence Clearwater Revival

49 "Green River".......................................Creedence Clearwater Revival

50 "Only the Strong Survive"...........................Jerry Butler

51 "The Boxer".........................................Simon and Garfunkel

52 "Oh Happy Day"......................................The Edwin Hawkins Singers

53 "Games People Play".................................Joe South

54 "Put a Little Love In Your Heart"...................Jackie DeShannon

55 "I'm Gonna Make You Mine"...........................Lou Christie

56 "Come Together".....................................The Beatles

57 "I'm Living in Shame"...............................Diana Ross and the Supremes

58 "Wichita Lineman"...................................Glen Campbell

59 "Something".........................................The Beatles

60 "More Today Than Yesterday".........................The Spiral Staircase

61 "For Once In My Life"...............................Stevie Wonder

62 "In the Ghetto".....................................Elvis Presley

63 "Things I'd Like to Say"............................The New Colony Six

64 "Atlantis"..........................................Donovan

65 "Sweet Cherry Wine".................................Tommy James and the Shondells

66 "Galveston".........................................Glen Cambell

67 "Hawaii Five-O".....................................The Ventures

68 "My Whole World Ended"..............................David Ruffin

69 "Soulful Strut".....................................Young Holt Unlimited

70 "I Started a Joke"..................................The Bee Gees

71 "Tracy".............................................The Cufflinks

72 "And When I Die"....................................Blood, Sweat and Tears

73 "You Showed Me".....................................The Turtles

74 "Time Is Tight".....................................Booker T. and the M.G.'s

75 "Gimme Gimme Good Lovin' "..........................The Crazy Elephant

76 "I've Gotta Be Me"..................................Sammy Davis, Jr.

77 "Run Away Child, Running Wild"......................The Temptations

78 "My Pledge of Love".................................The Joe Jeffrey Group

79 "The River Is Wide".................................The Grass Roots

80 "I'd Wait a Million Years"..........................The Grass Roots

81 "Laughing"..........................................The Guess Who

82 "Love Child"........................................Diana Ross and the Supremes

83 "Too Busy Thinking About My Baby"...................Marvin Gaye

84 "Quentin's Theme"...................................The Charles Randolph Grean Sound

85 "Color Him Father"..................................The Winstons

86 "That's the Way Love Is"............................Marvin Gaye

87 "Lay Lady Lay"......................................Bob Dylan

88 "Stormy"............................................The Classics IV

89 "Abraham, Martin and John"..........................Dion

90 "Rock Me"...........................................Steppenwolf

91 "The Israelites"....................................Desmond Dekker and the Aces

92 "You've Lost That Lovin' Feeling"...................Dionne Warwick

93 "Cloud Nine"........................................The Temptations

94 "Take a Letter Maria"...............................R. B. Greaves

95 "Can I Change My Mind"..............................Tyrone Davis

96 "This Girl Is a Woman Now"..........................Gary Puckett and the Union Gap

97 "Eli's Coming"......................................Three Dog Night

98 "Don't Give In to Him"..............................Gary Pucket and the Union Gap

99 "Cinnamon"..........................................Derek

100 "This Girl's in Love With You".....................Dionne Warwick
WABC's Top 100 Survey Lists for other years are available on this web site:
WABC Top 100 Songs of the Year

Full Length WABC Airchecks Page

WABC Musicradio 77 Home Page