Profile of Ruth Meyer
By Scott Benjamin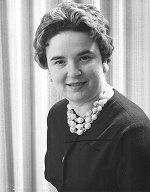 Ruth Meyer was program director for WMCA... WABC's main competition in the mid to late sixties.
She was as responsible for great Top 40 radio in New York City as WABC's Rick Sklar was.
Scott Benjamin interviewed Ruth for Musicradio77.com!
Ruth Meyer - who handled much of the programming and promotions at WMCA from 1958 to 1968, during its hey day as a Top 40 station - said that she initially struggled with her "Good Guys" approach because "talented air people don't want to be part of a team, they want to be a star."
In the early 1960s, Ruth promoted the station, which was at 570 on the AM dial, as the "Good Guys" and had the air personalities work on remotes together, wear the same suits and have similar hair cuts. They even cut a record album together, called "The Good Guys Sing."
"I told them that each of them was a star in their time slot, but it's going to be a group," she recalled in an Aug. 10, 2007 phone interview with Musicradio77.com from her home in Kansas City. " Disc jockeys always bad mouth each other. I told them that they couldn't bad mouth each other. They may not like another person, but they could be civil toward them."
The line-up during Ruth's decade with the station included Scott Muni, Harry Harrison, Herb Oscar Anderson, Joe O'Brien, Jack Spector, B. Mitchell Reed, Gary Stevens and Ed Baer.
She also designed the popular Good Guys sweatshirts.
However, Ruth said that she had to circumvent management to get the sweatshirts produced.
When her initial efforts were rejected, she went ahead anyway and had two dozen sweatshirts made and then gave them to Jack Spector to award as prizes during a remote at Rockefeller Center.
"We had no money to design them, so I designed them myself," Ruth said of the smiley faced sweatshirts, which are still available through eBay.
She said that they were initially so popular that the station was mobbed that first day with people who had followed Jack Spector back to the studios so they could get their WMCA sweatshirt.
Ruth said her career in radio began in the early 1950s after she graduated from Kansas City Junior College and her mother gave her a month to either get a job with a newspaper or become a secretary.
She was unsuccessful in landing a newspaper position, and instead got hired at KCKN in Kansas City, where she wrote commercials and helped the programming staff.
A short time later Ruth was hired at WHB, where she met Todd Storz, one of the founders of Top 40 radio.
"There weren't any women in radio, but that didn't seem to bother Todd," she said.
That led to a position at WMGM, a Top 40 station in New York City that featured air personality Peter Tripp.
"I thought that I would probably only want to stay in New York for three months, but I found that I liked it," Ruth said.
From there she went to WMCA, where she was teamed with General Manager Steve Labunski, who had also been working for the Todd Storz organization.
She said that Steve had to talk the Straus family, the owners of WMCA, into using the Top 40 format.
"They didn't understand rock music," she said of the family that owned the station.
However, she said that once the Straus family provided support for Top 40 music, it provided her with an advantage over the legendary Rick Sklar, who by 1963 had become the program director of Musicradio77 WABC.
"I thought that Rick was handicapped at WABC, because of all of the network commitments that interfered with their programming and he had so many people from the network looking over him," Ruth said.
"With a family-owned station like WMCA, I could do what I wanted to do," she said.
Unlike competitor 1010 WINS, which featured the famed godfather of rock and roll, Alan Freed, WMCA went unscathed during the payola scandals of the late 1950s and early 1960s in which songs were aired in return for payments from record salesmen.
"It wasn't a problem, because I made all of the final decisions and anyone who might offer payola couldn't get to me," Ruth said regarding the decisions on the play lists.
Rick Sklar worked at WINS at the time of the scandal and went to considerable lengths during his long tenure at WABC to keep his air personalities and programming staff from having any contact with record company representatives.
The late Julian Breen, who was the assistant program director at WABC from 1968 to 1971, said in an April 2005 phone interview with Musicradio77.com that the statistics from the record stores that were used to compile the play lists were kept for three years.
Ruth said that she enjoyed working with Scott Muni, who left WMCA in 1960 and became the night personality at WABC for four and a half years before embarking on a long career in FM radio.
"He was a doll," she said. "We became good friends.
"He was funny," Ruth said. "People said he was a showboat, which wasn't true. He was the kindest man. He also knew the guts of programming."
She said that she had less admiration for Herb Oscar Anderson, who was the morning drive air personality at WMCA before he took the same position at WABC when it became a music station in December 1960.
"Herb was difficult to deal with," Ruth said. "He didn't do anything that people told him to do," she said.
She said that she still corresponds with Harry Harrison, who was WMCA's mid-day air personality for about nine years before he succeeded Herb in the morning drive at WABC.
"He is enormously talented and is the nicest person," she said.
"Joe O'Brien became the bulwark of WMCA," she said of the long time morning air personality who later worked at WNBC and other stations.
"He was calm and never had a harsh word for anyone," Ruth recalled.
She said that afternoon air personality Jack Spector "was the strangest man."
Ruth said that often when he was in her office he would mostly talk "about how he went 3 for 4 in a baseball game on Sunday."
"You knew when Jack was in the building, because doors would slam," she said. "People didn't want to listen to him talk about himself."
Ruth said that air personality Dan Daniel "was probably the most talented d.j. I met in my life. "But he was very insecure. His talent outran his social skills."
"Ed Baer was a sweety-pie," she said of the utility air personality. "You could move him all over the place and he was good at it."
Ruth recalled that night air personality B. Mitchell Reed lived three blocks from WMCA, but would drive his European car to work each day even though it was sometimes difficult to find a parking place.
She said that his mail was all over his desk and he sometimes would lose his pay check.
Ruth said that Gary Stevens, who succeeded B. Mitchell as the night air personality in 1965, was "talented guy who refused to be part of the team."
She said that she received a lot of help from Music Director Joe Bogart, who had played in a band and was a friend of actress Doris Day
"He could smell a hit a mile away," Ruth said.
She said the Musicradio77 WABC air personality she most coveted was afternoon man Dan Ingram.
While working in the Midwest, Ruth had heard some of Dan's earlier shows in Dallas and St. Louis.
She had him audition, but Dan turned down the job because he was making more money working in radio production at that time.
He has said that he later had regrets and in 1961 joined WABC after immediately producing a mock air check of a WABC show for general manager Hal Neal.
Ruth said that Dan sent her "a sweet note" some years later after she suffered a stroke.
She said that Rick Sklar "was always courteous and polite" to her, but also was "suspicious" of her motives.
"He thought that I was going to trick him, such as when I suggested that we have jocks from both of our stations emcee a Beatles concert," Ruth recalled.
"I didn't need to do that to win," she said. "I wanted to win, but I wanted to do it the right way."
WMCA was hampered because its 5,000 watt signal paled in comparison to WABC's 50,000 watts, which sent the station to a reported 39 states and some foreign countries.
Ruth said that one obstacle was that WMCA listeners would go away on a summer vacation and be able to listen to WABC and then continue to stay with Musicradio77 when they got back home.
At one juncture in the mid-1960s, WMCA had more listeners than WABC in New York City, but far fewer in the suburbs.
Ruth said WMCA "played a lot of soul music" since the five boroughs of New York City had a considerable African-American population.

WABC Musicradio 77 Home Page