George Musgrave Profile


by Scott Benjamin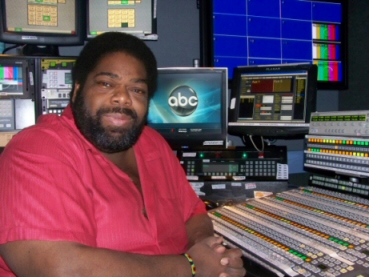 George In 2010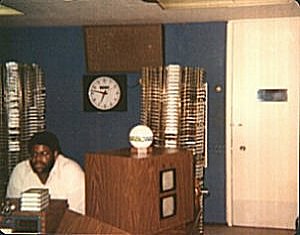 George in the WABC Studio in 1978
George Musgrave was working for the New York City Department of Housing in May 1978, about a year after graduating from Hofstra University on Long Island, when Jeff Kraus, the general manager of the campus station, WVHC-FM, called him and said there was a job available for an engineer at Musicradio77 WABC.
George Berger, who had been the chief engineer, at WVHC and was now a staff engineer at WABC, had told Jeff that there was an opening for a relief engineer at Musicradio77.
George Musgrave had entered Hofstra, located in Hempstead, almost five years earlier to major in Math, but then became attracted to WVHC during freshman orientation and spent the next four years as a staff engineer, executive engineer, air personality and news reader at the campus station while earning a bachelor's degree in Communications.
Nine years earlier, George Berger, who had contact with WCWP, the campus station at C.W. Post College on Long Island, had helped get its faculty manager and former chief engineer, Bill Mozer, a position at WABC, which was then the most listened to station in the nation.
George Musgrave said WVHC, at 88.7 on the dial, had a similar philosophy to WCWP in viewing itself as a college station that programmed not just for the students in the dormitories, but also for the local community.
"We played jazz, classical, and had a mixture of music and community affairs," he said in a Feb. 19, 2010 phone interview with Musicradio77.com.
'It was one of the first stations to feature acoustic music regularly," George added.
He said WVHC did remote broadcasts of live concerts from Hempstead Town Hall, which included folk and classical music.
The campus station also had a popular Polka show on Sundays, which became a venue to sometimes raise money for its operations.
"I learned how to become a better engineer from doing that show," George recalled. "Every song was over in two to two and half minutes and you had to be ready to segue to the next song."
WVHC, now known as WRHU, has produced scores of graduates who are now working in the broadcast media.
The roster includes Alan Colmes, the talk show host for Fox News Radio, who formerly worked for Fox News Channel; Brandon Chase, an Emmy-award-winning producer for ABC's Good Morning America; Jared Max, a sports anchor for Newsradio 880 WCBS in New York City; and Charlie Kaye, the executive producer of the CBS News/Radio.
Additionally, legendary WABC air personality Dan Ingram is a Hofstra graduate.
"They get so much support at the station because there is such an alumni group there now," George Musgrave said, noting that WRHU celebrated its 50th anniversary last November and is the oldest non-commercial educational station on Long Island.
He said it was "mind-boggling" to be working at WABC just a year after graduating from college.
"I was at WABC, the station that I had been listening to as I was growing up," George said.
He said that he and a family member had a rivalry over WABC, which she favored, and WMCA, which George frequented, as they were growing up in Brooklyn.
However, George said he started to tilt more toward WABC after the Beatles started to dominate the music charts and WABC became known as WA-Beatle-C.
He arrived as WABC was concluding its hey-day as the dominant station in the New York City market.
"You could see the impact of FM coming on," George said, noting that four years after he arrived WABC abandoned its music format and became an all-talk station, partly because so many of its former listeners had moved to FM, where the music sounded better.
He began working the overnight shift with air personality Bob Cruz, who was not much older than him.
"He was still a kid, riding his bicycle to work," George said.
"His dream had come true at a young age," he said of Bob, who had arrived at WABC in March, 1976, just shortly after graduating from college.
He said he later had contact with Bob while they both worked on ABC Television's 20/20.
George said he enjoyed working with night personality George Michael, but that his perfectionism required that the engineer "pay attention."
He said one night he took the song that was playing out of one of the seven carts in the console and George Michael "got angry."
George Musgrave said he did the same thing the next day during Dan Ingram's show, and Dan reacted as though "it was a case of a young guy who was going to make a mistake."
He said having the air personality and the engineer in the same room, instead of in separate studios, was a more effective arrangement since it turned them into a team.
George Musgrave said George Michael, who also worked as the sports anchor at Channel 7 Eyewitness News on Saturday nights, sometimes needed the engineer "to pick up the ball," as he did his show and also prepared for his television sports cast later that night.
He said late night air personality Chuck Leonard "would come in with that leather coat and as soon as the light for the microphone went on you could see the grin on his face and the smile in his voice."
"The listener thought that he was talking to him," George Musgrave recalled.
He said mid-day air personality Ron Lundy "was always so happy. "He was like a kid in a candy store."
George also worked on the FM side, at WPLJ.
He said the station's popular former air personality, Pat St. John, "was such a consummate professional that he probably could have done his show and be the engineer at the same time with no problem."
George said he was proud to have worked on a television advertising campaign for WABC that was a finalist for a national award.
He stayed with WABC into its all-talk era, leaving in early 1984 for ABC Television News after a contract stipulation allowed the talk show hosts to engineer their own shows, which reduced the roster at the station from 30 to 18 engineers.
"It was an easy transition," George said.
"It mirrored what I had done at Hofstra," he said, noting that he had worked at both the color and the black and white campus television studios while he was in college.
For several years George, who still lives in Brooklyn, has been a technical director, working on several shows for the news division and the network, including 20/20, Prime Time Live, Nightline and World News.
One of his more vivid memories was overseeing the technical operations in June 1994 during the low-speed police chase of the white Bronco carrying O.J. Simpson.
George said technology has changed considerably during his 26 years in television, noting that "with satellites you were kind of iffy sometimes in the 1980's if the transmission was going to be there right before air time."
"Now you sometimes do five or six remotes in a half hour news show," George said.
He said it is interesting that there still is considerable interest in the music of the 1960's, 1970's and 1980's.
"There was such a clamor when WCBS-FM went to a Jack format," George said regarding the June 2005 move from oldies to IPod-inspired music programming.
"You also see it with so many of the WPLJ air personalities being still on the air," he said.
And more than 30 years after he arrived at WABC, his own career is still going strong.

WABC Musicradio 77 Home Page