Musicradio 77.com "Survey Guy" Mike Riccio


by Scott Benjamin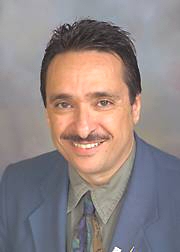 Mike Riccio, one of the four "Survey Guys" who helped assemble more than 21 years of the weekly countdowns for the Musicradio77.com, said the "bulk" of his data has come from information that he "jotted down" during WABC's heyday as the most popular Top 40 station in the country.

Mike, who lives in East Meadow, Long Island, said in a Nov. 14, 2010 phone interview with Musicradio77.com that he has "always been fascinated with the charts."

He said he wrote down the songs from the count downs that Cousin Bruce Morrow and George Michael did through the 1960's and 1970's and also would regularly listen to Dan Ingram's afternoon show, not just because he was a fan of the radio legend, but because Dan was the only WABC air personality that frequently announced the survey numbers during the week as the songs were played.

Mike said at one point, while he was working at WBLI and WLIX on Long Island, he would tape Dan's show in between his air breaks to make sure that he was getting the survey numbers.

He said he occasionally did get the WABC surveys that were distributed in the record stores and for a while in the late 1970's Musicradio77 WABC air personality Bob Cruz sent them to him through the Post Office mail after they met at a Long Island rock club where Mike was working as a disc jockey.

Mike said he became one of the "Survey Guys" after communicating with Tom Natoli in 1996 on Bob Shannon's message board.

Mike, who is a real estate associate for Prudential, learned that Allan Sniffen had established Musicradio77.com, a tribute Web site to WABC's Top 40 era, and then discovered that some of the information that had been assembled was inaccurate.

Over time, Mike, Tom, Ken Williamson and Don Tandler put together an accurate list of all of the WABC surveys from late 1960 until the station's move to a talk format in May 1982.

They are known as the "Survey Guys."

"It's a measure of the popularity of each song in a particular era," Mike said regarding the value of the surveys.

He said, for example, in the fall 1968 WABC was playing an incredible range of music that included such artists as Jeannie C. Riley, The Crazy World of Arthur Brown, Cream, the Chambers Brothers, the Vogues, the Ohio Express and O.C. Smith.

"You just don't have that kind of range on a station today," Mike said.

'It's a good picture of the music of that time," he said.

This year for the 13th consecutive time he is producing the Top 77 All-Time Favorite Hits Survey, which was featured on Musicradio77.com from 1998 through 2006 and was posted again in November 2010.

People accessing the survey are asked to provide their five favorite songs.

Mike said he usually has 500 to 1,000 people participate and averages about 3,000 songs annually for consideration.

He said Hey Jude, by Beatles, which was number one on WABC's Top 100 of 1968, has finished first on the Top 77 Songs Survey each of the 12 years that the Top 77 Songs Survey has been compiled.

Mike said there also have been some surprises, noting that Ain't No Mountain High Enough, by Diana Ross, has consistently rated very high.

Other popular songs have included, Satisfaction, by the Rolling Stones, and Stairway To Heaven, by Led Zeppelin.

"It's an effort to replace that feeling of WABC," Mike said of his survey, which has appeared in the past as a broadcast countdown on RadioMaxMusic and the Bob Radil Show with Mike handling the writing and Allan Sniffen announcing the songs.

Some years ago Mike wrote an essay that is posted at Musicradio77.com on how WABC assembled its weekly surveys and the Top 100 of the Year, which included comments on his interaction with famed Musicradio77 Program Director Rick Sklar in the 1970's.

He said that he sent a letter to Rick while he was in college and got a call from Rick's secretary asking him to come by.

Mike said he talked to Rick for 30 minutes to acquire insight into how WABC computed its surveys.

Rick, who was known for his care in putting together the surveys because he had been WINS when the payola scandal ravaged that station some years earlier, had a large pool of record stores that were randomly called.

Mike said the phone calls were recorded and the tapes were kept for verification.

He said Rick tried to detect surprises.

"If a song went from nowhere to number 15 under suspicious or questionable circumstances, he would say, "'Hold off to another week,' " Mike said.

"It is the most accurate gauge of the music of that era," he said regarding the care that Rick took in compiling the WABC surveys.

Mike said he would send his own prediction of the Top 100 of the year to Rick, who admitted that it was probably more accurate than the WABC survey of those songs because it was calculated right through the final weeks of December.

WABC had to set an early-December deadline so that the surveys could be printed and ready to mail to the listeners that sent a self-addressed stamped envelope as they anxiously awaited the survey to arrive in the mail after the Top 100 was played from the day after Christmas through New Year's Day.

Mike said in jotting down the WABC Top 100 of the Year, there were times he would listen during the days approaching New Year's Day and fell asleep with a transistor radio pinned to his ear.

The Survey Guy, who has been an air personality at WBLI, WLIX and WGLI, has said lists have become even more popular, noting, for example, that The Guinness Book of World Records has been published for decades and there are now more political polls and polls ranking the top college sports teams..

While attending C.W. Post on Long Island, Mike worked with a staff that included WABC engineers Bill Mozer and Frank D'Elia.

He said he still does a show "every four or five weeks" as part of a contingent of alumni that are on the air periodically at WCWP.

Mike said "the consistency and the reach" were the reasons for WABC's huge success as a music station.

"People wanted to hear the number one song and they got it every hour and the number three song was being played at least every two hours.

"Rick knew that you couldn't' play the top songs enough and he knew what his audience wanted," Mike said.

The signal reportedly traveled to as many as 39 states at night.

"It impacted many people's lives," Mike said regarding the continuing high level of interest in WABC more than 28 years after the music stopped.

WABC Musicradio 77 Home Page