Mike Riccio On The Top 77 Survey


by Scott Benjamin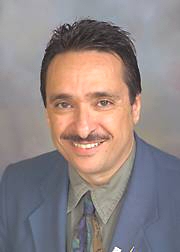 Musicradio77.com Survey Guy Mike Riccio has taken a holiday school-vacation tradition from the era of transistor radios and updated it on the Internet.
"It was an important part of WABC," he said of the Top 100 of the year, which Musicradio77 played each year from the day after Christmas through New Year's Day.
Since the Top 100 - which was trimmed to the Top 77 in 1977, 1978 and 1981 - came during school vacation, some high school and college students would tape parts of the shows so they would have recordings of their favorite songs from that year.
Some of those tapes were aired through the years on WABC Rewound.
Former WABC late-night air personality Chuck Leonard said on the air while substituting for Charlie Greer on the all-night show in 1968 that the Top 100 provided a reminder of some of the songs from the early months of that year that the listeners had forgotten about.
Mike, who moderates Oldiesboard.com, an affiliate of Musicradio77.com, is in his 14th year of tabulating the Top Songs 77 All-time Favorite Hits Poll.
The Top 77, which usually attracts at least 500 voters, was featured on Musicradio77.com from 1998 through 2006 and again last year and this year.
Mike began taking votes on people's top five songs Nov. 3 on the link, which is posted on the main page of Musicradio77.com, and will close the balloting Dec. 11 so he'll have ample time to compile the list for air personality Bob Radil's Top 77 countdown show on Rewound Radio Dec. 26.
Bob is a longtime announcer, who, among other things, did the 60s-70s show at WNHU at the University of New Haven in Connecticut from Jan. 2007 to Sept. 2010.
Mike said that from Dec. 26 through New Year's Day, Rewound Radio will feature songs from the Top 77 and some bonus hits that didn't make the list. The Top 77 survey also will be posted at Musicradio77.com.
He said that at various times through the years voters have chosen three, five, seven and 10 songs.
Mike said three songs provides too few selections
"With more songs, you have more variety," he said in a Nov. 13 phone interview with Musicradio77.com. However, he added that going beyond five selections becomes cumbersome to tabulate.
The WABC Top 100 began in 1964 and featured a printed survey starting in 1966 that listeners could obtain by sending in a self-addressed stamped envelope.
Today, Mike sends a copy of the Top 77 to the voters through e-mail.
In the late 1990's, Mike and the other three Musicradio77.com Survey Guys - Ken Williamson, Tom Natoli and Don Tandler - assembled the weekly surveys for each week during WABC's run from December 1960 to May 1982 as a Top 40 station.
Some of the Survey Guys have been among the people who have assisted Mike through the years in compiling the Top 77.
Mike has said that he would write down the survey information while listening to WABC and collected some of the surveys that were available at the record stores. At one point in the 1970's he met WABC air personality Bob Cruz, who began mailing him the surveys.
Mike - who has been air personality at WBLI, WLIX and WGLI and now does occasional shows at WCWP at C.W. Post University, his Long Island alma mater - provides commentary and analysis each year on the Top 77.
The Beatles'" Hey Jude," which was number one on WABC's Top 100 of 1968, also topped Mike's poll for the first 12 years, but was overtaken last year by the Four Seasons' "Rag Doll," a tune that was number 7 on WABC's Top 100 of 1964.
"Rag Doll" wasn't even on the Top 77 All-time Hits Poll in its inaugural year of 1998 - yet while two other tunes by the Four Seasons - "Dawn" and "Sherry " - did make that list.
Mike said he believes the reason that "Rag Doll" has vaulted to the top is due to the popularity of the Tony-award winning Broadway show "Jersey Boys," which has generated more interest in the Four Seasons since it premiered in 2005.
He said a good share of the people who vote each year live in New York or New Jersey and some of them identify with the Four Seasons, who hailed from Newark, N.J.
Mike said through the years some songs have soared to unexpected heights after they were featured in the media.
For example, he said "Bang A Gong (Get It On)," a 1972 tune by T. Rex ,was fourth on 2002 Top 77 after it was featured in a commercial. However, more than a generation ago, that song didn't even make the WABC Top 100 for 1972.
Mike said the percentage of songs representing various eras has stayed roughly the same over the last 13 years.
He said he agrees with former WABC air personality Cousin Brucie that over the recent years, as people are living longer and more active lives, the radio demographics have changed.
"Some radio people may not realize that there is a different mentality," Mike said, regarding the changes from the late 1980's, when more stations were playing music from the 1960s and 1970s and the more recent years when some stations have switched away from oldies or have added more 1980s and 1990s music to their play lists.
Mike said he believes most people start becoming aware of music at age 12, and therefore there are a considerable number of people in their 50s and 60s, that now, more than 40 years later want to hear "I Want To Hold Your Hand" and "Daydream Believer," since those were the songs that the Top 40 stations were playing when they were young.
"These are people that grew up with Woodstock, the Beatles and the disco revolution," Mike said. "They are listening to the radio and want to hear the songs that were being played when they were younger, they're buying consumer products, and I don't think that every radio station understands that."
He said he believes there are a small number of younger people who also are interested in the music that WABC played during its hey day.
Former Musicradio77 and WCBS-FM air personality Marc Sommers said in a Mar. 2007 phone interview that, "In 1992, CBS-FM won three of the four ratings books and was taking 12-plus shares."
"You can't take a 12-plus share without having some young people listening to you," he added. "If it could be done in 1992, I think it could be done today."
Mike said the Top 77 is a source of enjoyment for him and the voters.
"People look forward to it," he said. "It is also a product that I am very proud of."

WABC Musicradio 77 Home Page