Profile of Richard Silverberg
by Scott Benjamin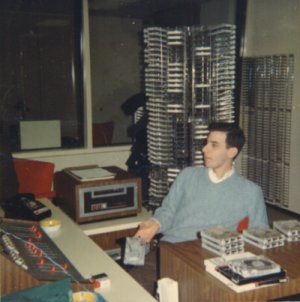 At the WABC Console in 1967 2007
Former Musicradio77 WABC engineer Richard Silverberg said that his start in radio was initiated through a conversation in the bathroom of a college dormitory.
Richard had earned his first class radiotelephone operator's license while in high school and had visited WRSU, the campus station at Rutgers University, in the summer of 1960 before he began his freshman year.
However, he was unable to attend an organizational meeting for the station because of his rigorous academic schedule.
"My major was electrical engineering and I had no idea how difficult it would be," he stated in an Apr. 13 e-mail interview with Musicradio77.com " I was completely lost in physics (I had to get a tutor) and calculus was a real bear. I was doing three or four hours of homework every night!"
"Needless to say I was very disappointed, but I felt school work should come first," he added.
However, a short time later he met Martin Grove in the bathroom of the dormitory where they lived on the same floor.
"The conversation turned to broadcasting," he recalled, and Martin, who was a member of the station, told him that WRSU was "anxious for new members" and that he should become a member of the staff.
Martin, who became a publicist for ABC television and now is a columnist for The Hollywood Reporter and the host of television movie previews that are used on airlines and in other venues, introduced Richard to WRSU's chief engineer, Larry Berger, who signed him up right away.
Larry is best known as the program director of WPLJ, the ABC FM owned and operated station in New York City, which became a force in the city with such air personalities as Jim Kerr and Pat St. John.
A short time later Richard also landed a position at commercial station WCTC (AM) - based in New Brunswick, New Jersey - as the assistant chief engineer.
Another staff member at WRSU during that era, would also make a splash some years later at WABC.
Julian Breen would serve as Musicradio77's assistant program director and production director from 1968 to 1971, and went on to a long career as a program director and radio consultant.
Julian told Musicradio77.com in a phone interview Apr. 1, 2005 that Richard notified him of the job opening at WABC for an assistant program director.
He "had some experience as a DJ in Atlantic City, so they promptly put him on the air at WRSU," Richard recalled of their years together at Rutgers. "He played rock and roll which was new to the WRSU airwaves in 1960 (I believe most of our programming at that time was folk, big bands, classical, sports and news)."
"Julian was very much of a stand-out to all of us on the staff," he added. " He was quite professional, hard-working, but very much on the cutting edge of our sound. While we all respected him, I believe many thought of him as a bit odd."
Some time later, Richard lived in an off-campus apartment with Martin Grove, and later resided in an apartment with Julian Breen and Larry Berger.
Martin said that WRSU - known as the Great 68, since it was at 680 on the dial - was a tremendous training ground.
"You learned everything about radio," he recalled in an Apr. 22, 2007 phone interview with Musicradio77.com. "In those days you had turntables and reel to reel tape machines. It was amazing that the production was as tight as it was with that kind of equipment."
While at Rutgers, Richard changed his major from engineering to journalism, which was "the closest thing that university offered to broadcasting," where he wanted to land a position.
"While I enjoyed the technical side of broadcasting, I felt there were better career opportunities in the programming end," he stated. "Since Marty Grove was already working part time in New York, I asked him to prepare a list of the program directors of all the major radio stations. I then sent out a letter to each one, seeking a job for the summer of 1963."
"It turns out Marty made a mistake on one of the names: He gave me the program director of the ABC Radio Network (not WABC)," Richard added. " I would never have even considered applying to a radio network. As fate would have it, they had an opening for an assistant night program supervisor."
"It was quite an interesting job," he continued. " I was actually in charge of the radio network from about 5 to midnight, trouble shooting any missing announcers, missing tapes, studio problems, missed feeds to affiliates, etc."
Richard stated that he became well acquainted with all of ABC's 27 staff announcers, including such notables as Milton Cross, who was best known as the announcer of the Metropolitan Opera.
He moved to Manhattan, just three blocks from the ABC headquarters in November 1964.
Richard's roommate was an engineer at the network who earned considerably more money. So in July 1965 he went back to engineering.
"Since I was the low man on the seniority list, I was the one who was sent over to WABC to engineer there for the jocks (the studios were at 1926 Broadway) whenever they were short-handed," Richard recalled. "We called this assignment 'local radio' and nobody, including me, wanted to do it."
"We all felt it was beneath us, going from the lofty radio network to a lowly rock and roll radio station!" he added. "The two engineering staffs very much looked down upon each other: the local guys thought the network guys a bunch of old fogies and the network guys thought the local guys were a bunch of upstarts."
"Having no choice in the assignments, I endured periodic stints with Ron Lundy, Cousin Brucie, Bob Lewis and at the FM station, which was playing classical music at the time," he wrote regarding his work. " On January 15, 1966 I worked with Dan Ingram for the first time and actually enjoyed it."
"Little by little I found the assignments at WABC more fun and when they finally told me that I'd be moving there permanently, I was actually pleased!" Richard stated. "On August 8 we moved to our new studios at 1330 Avenue of the Americas. The facilities were state of the art and everyone was quite proud."
"For the first time I had a bit of a commute to work, but I was enjoying it nonetheless," he wrote. "Then one day Dan Ingram asked me if I would like to work with him every day. Of course I said 'yes' and he arranged to have my schedule changed. We really had a nice rapport."
Richard noted that WABC was one of the few radio stations to have the air personalities and engineers operating in the same room.
"That made for not only good rapport, but good communications," he wrote. "Additionally we had a small studio where all 45's were put onto tape cartridge so nobody could screw-up when cueing a record -- I believe the station was a pioneer in this regard as well."
"By working in the same room with the same engineer, Dan Ingram, for example, could call for the 'X' jingle and then the 'Y' jingle and the engineer knew exactly what he wanted," Martin said regarding the advantages that his friend and the other engineers enjoyed as a result of being in the same room as the air personality.
Richard stated that he enjoyed working both with Dan and Brucie. However, he said they had very different personalities.
"Brucie was a manic person to work with," he recalled, referring to the current host of the Wednesday and Saturday night shows at Sirius 6. "He was a serious multi-tasker who was always on the phone or talking to someone in the studio, so the engineer really had to stay on top of things and keep the show together."
"Dan, on the other hand, was very much in charge," Richard wrote. "He knew at all times what he wanted and the engineer merely had to follow his instructions."
"They were both real jokers and the time went by very quickly during my stints with them," he continued. "I rarely spent any time away from the station together, however. Cousin Brucie took the entire engineering staff on a boat trip around Manhattan once a year on the WABC cruiser and I used to get together occasionally with Bob Lewis at my apartment, but that's it."
Richard wrote that in the summer of 1968, Allen Shaw and George Yahraes were hired by ABC to start a new service for the FM stations: Love Radio.
"I was assigned to help them prepare a demo tape and we really hit it off, so little by little, I left AM radio to work for the Love Group, eventually becoming a supervisor for the syndicated effort," he stated.
He traveled to San Francisco in 1970, fell "madly in love with the city," secured a position at KGO radio and moved there on January 1, 1971.
Late that year George Yahraes arrived in San Francisco to manage the new FM station, KSFX, and Richard worked there as a supervisor for eight years before pursuing a career in real estate.
He wrote that he got his real estate broker's license and went to work for a prestigious Bay Area firm. The company was sold several times and he eventually worked for Coldwell Banker.
He vacationed in Thailand in 1992 and enjoyed it so much that he started to visit twice a year for a month at a time.
"It's been almost four years now that I've lived here in Pattaya and I love it!" he wrote of his life in the Asian nation. "I have sold everything in the US and am completely at home here (I have not been back to America in three years now). I'm getting pretty good with the language and have many friends."
"The dollar goes a long way here (I bought a wonderful 1,200 square foot ocean view condo with three balconies for about $125,000)," he added. "The weather is great (if a bit hot at times)."
"If all goes well, I hope to spend the rest of my days here (the medical facilities are quite good and about one sixth the cost in the US), enjoying the beach, my computer and lots of wonderful, inexpensive restaurants," Richard continued.
"But I do miss pastrami sandwiches!" he wrote.

WABC Musicradio 77 Home Page