Ted David Profile
by Scott Benjamin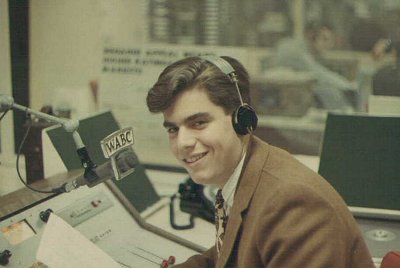 Ted David behind the WABC microphone in 1967
Ted David got that chance we all dreamed about...
He got on the air at Musicradio 77 as a kid with no radio experience!


How did that happen?
Scott Benjamin found out!
Although he was just an ABC page, earning $1.25 an hour at the time, Ted David, then 18, spotted an opportunity as the engineers, air personalities and staff announcers prepared to go on strike, leaving the network and local operations in a dilemma.
In the early evening of Sept. 24, 1967, he dialed ext. 8511, which he knew was the direct line to WABC Program Director Rick Sklar.
"Do you need help?" asked Ted, who has become a major figure in financial reporting over the last 19 years with CNBC and CNBC radio.
"I figured he was going to say, 'Go away little boy,' " he recalled in a Nov. 30, 2007 phone interview with Musicradio77.com.
The legendary music programmer asked Ted if he had any experience.
"I lied and said I was in college radio," recalled Ted, who was then a freshman at Long Island University's Brooklyn campus, which had no campus radio station.
However, he had become enthralled with radio as a 15-year-old, and after his family bought him a tape recorder, he spent hours reading anything and everything into the microphone.
"I could read stories from The New York Times or The Wall Street Journal cold into the tape recorder," he recalled. "Girls I knew used to wonder why I spent so much time with the tape recorder."
Rick had Ted, who then went by his real name, Ted Gluckman, immediately take a cab from the 66th Street TV complex where hw was working to 1330 Avenue of the Americas, where WABC was then housed.
"When I got up to the eighth floor, Rick was running around like a chicken without a head," Ted recalled.
He was whisked into Studio 8-B, where he read some wire copy.
After completing a flawless audition, he was told that he would do some newscasts and station identifications during the New York Jets-Denver Broncos game that was then on the air with Merle Harmon and Sam DeLuca doing the play by play and color commentary, respectively.
"I was too stupid to be nervous," said Ted, who made sure he called his mother to tell her that he was about to go on the air on the biggest Top 40 station in the land.
With Rick Sklar operating the control board, Ted delivered the newscast "right in the studio where Dan Ingram and everyone else worked."
After accomplishing that mission, Rick asked if he had done any work as an air personality, since he needed someone to do Chuck Leonard's shift after the football game.
Ted said he again lied and said he had some experience.
Thus, when the football game ended, the Chuck Leonard jingle played, the red light went on and Ted made his debut as an air personality, substituting for Chuck, by introducing "Expressway To Your Heart" by the Soul Survivors, which was then number 15 on the music survey.
He worked as an engineer and staff announcer over the next four days before the air personalities returned and then continued those duties for another three months as the staff announcers and engineers remained on the picket line.
"I had never run a board before, but the board they had was pretty simple," Ted said. "I was only 18 years old and then one day I was on the other side of the board from Dan Ingram."
However, there were some moments of friction while he ran the control board for the popular afternoon air personality.
"I played the wrong jingle one day and he threw a cart at me and it hit me in the head," Ted recalled. "Today, that would be grounds for something. But he said, 'I did that because you're not stupid. I did it because you weren't paying attention.' "
"From then on, I always double checked to make sure which cartridge was in the machine," he said. "It became pretty flawless."
Staff announcer Carl Caruso, whose voice sounded deeper than the Jolly Green Giant and was the union shop steward at the time, told Ted that he didn't "have a problem" with his work on station identifications and newscasts while the staff announcers were on the picket lines.
"He told me, 'You're a young guy getting some experience,' " Ted recalled. "He said, 'You're not out to take away a job from one of us.' "
Ted typically worked as engineer during the morning, handling assignments on Herb Oscar Anderson's wake-up show; The Breakfast Club, which ran from 10 to 11 a.m. and was in its final months on WABC as the station prepared to move to a more music format by eliminating some of its network commitments; and on Ron Lundy's mid-day show.
His college grades suffered, but he received practical experience that an 18-year-old could only dream about!!!
One Sunday, his father took a phone call at their home from WABC late-night air personality Chuck Leonard, who said he was calling on behalf of Rick Sklar and that they needed Ted at the station to run the control board for Chuck's Sunday show that ran through the late afternoon and early evening before the public affairs programming came on the air.
"My dad couldn't believe that he was actually talking to Chuck Leonard," Ted said.
He became a page in July 1967 while he was taking a summer math class at the Rhodes School in Manhattan, just down the street from ABC headquarters.
His class there ended in the late morning and one day, while walking past ABC he wandered in and inquired about a position as a page and was hired on the spot.
Ted said, even though he learned a short time later that the direct line to the famed studio 8-A at WABC was "7328," he never expected to be working as an announcer and engineer at Musicradio77 just two months later.
After his assignments ended in early winter, following the return of the staff announcers and the engineers, he received a $1,000 bonus.
"That was a lot of money at that time for someone my age," Ted recalled.
The following fall he transferred to C.W. Post and began working at WCWP, the campus station.
The first person Ted met when he made a visit to the campus before enrolling was Bill Mozer, who was the chief engineer and would later become the director of broadcasting.
In 1969, Steve Post, who was then the director of broadcasting at WCWP, allowed "sexually suggestive elements on the air," Bill said in a May 19, 2007 interview with Musicradio77.com.
The college administration shut down the station, which led to a two-month protest vigil in which some people occupied the Benjamin & Elizabeth Abrams Communications Center.
"They wiped fecal matter on the walls and were making long distance phone calls to South America," Ted recalled. "Some of them had never been in that building before."
In December 1969, Bill, who by then was an engineer at WABC, was appointed as the director of broadcasting with the assignment of getting the station back on the air.
With the help of Ted; the late Bill Epperhart, who worked for a long time as a relief engineer at WABC; and longtime WABC engineer Frank D'Elia and some other people, WCWP became a successful community-oriented campus station.
"He has a command of the English language," Bill said of Ted in the May 19, 2007 phone interview with Musicradio77.com. "He has awesome timing. He absorbs information. He can read a book and then go on the air and sound as though he is a doctor."<![if !supportEmptyParas]> <![endif]>
Meanwhile, Ted was using his connections from the 1967 WABC strike and from his work at WCWP to land part-time positions at commercial outlets.
He was a desk assistant at WABC-TV Channel 7 and assisted Cousin Brucie on a short-lived television show.
"It allowed me to go up with a girl friend and sit in on some of his shows at WABC," Ted recalled.
He also landed a position at WLIX in Islip, Long Island.
"WCWP had a professional atmosphere, and there were jobs available in commercial radio then," Ted recalled.
"There was so much local programming that those stations needed additional staff members," he said regarding the more stringent Federal Communications Commission regulations regarding news coverage and public affairs programming.
"You also didn't have as many syndicated shows as you have now taking up time slots that had before been devoted to local programming," Ted said.
After a while, he was no longer Ted Gluckman, but Ted David – using his first and middle names.
He worked at WPIX-FM and other stations through the 1970's and 1980's and did voiceover work, even earning some "kudos" from Dan Ingram, who was one of the premier voiceover artists at the time, for a 1974 Pontiac commercial.
"Getting that kind of praise from Dan really meant something," Ted said.
Through the years he has stayed in occasional phone contact with Ron Lundy, who now lives in Bruce, Miss.
Ted worked for eight years at ABC radio news, initially as an anchor for the FM network, which included WABC's sister station, WPLJ, and later as a consumer and medical reporter for another of the company's networks.
During that time he began doing work as an anchor at New 12 Long Island, a local cable outlet.
In 1988 Ted sent an audition tape to CNBC, the financial news cable network that NBC was about to launch, and has been there since its inception in 1989.
Through 2006 he had hosted such shows as Morning Call, The Edge, Market Watch, Market Wrap, Street Signals, The Money Wheel and Weekly Business.
Ted even hosted a segment on CNBC with some of the longtime ABC staff announcers, including Bill Rice, who is still with the network and normally handles the assignment for the World News with Charles Gibson.
For nearly two years, he has been a senior anchor for CNBC Business Radio, where his financial reports are heard through Westwood One on nearly 80 stations, including 880 WCBS news radio in New York City.
"People like to get financial news on radio because its more immediate," Ted said, noting that there has been a growing audience through the years as a larger segment of the population has started to invest their money.
He said he doesn't miss the drive to CNBC's television facility in Englewood Cliffs, N.J., and that with all his experience in radio, it has become "a comfortable glove."
"Most of the skilled people on television have been on radio," Ted said. "They are used to timing and having to ad-lib."
Over the years, he has received a National Press Club citation for Best Consumer Journalism, the Ohio State Award for Excellence in Educational, Informational and Public Affairs Broadcasting and the American Cancer Society's Gaspar Award.
Ted and his wife, Jane, who celebrated their 33rd wedding anniversary in November 2007, have two adult sons.
"I'm still awed by the experience of being an 18-year-old kid who was reading the news while Rick Sklar was running the control board," he said in recalling the start of his surprise stint at WABC.

WABC Musicradio 77 Home Page