Lon von Hurwitz Profile
By Scott Benjamin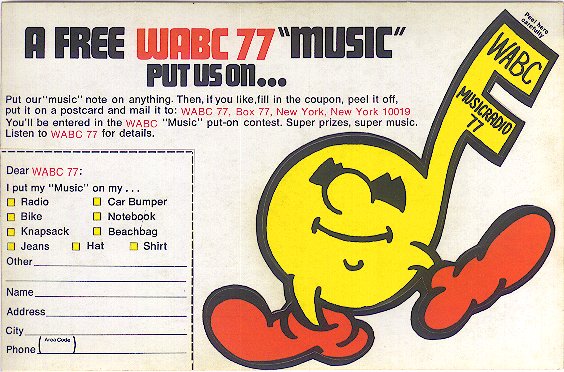 The Original "WABC Music" Promotional Sticker
(1973)
By now, regular visitors to Musicradio77.com are very familiar with the "WABC Music" sticker.
When I created the web site in 1996, I had an original sticker that I scanned to use as the theme of the web site.
I suspect it's now more famous in cyberspace than it was in 1973 when it first appeared.


Music Note Sticker Promo
Its creator is Lon von Hurwitz, former WABC Promotions Director.
Lon e mailed me a few months ago to let me know it was his creation and that he was pleased to see it was still around.
Scott Benjamin caught up with him for an interview:
Lon von Hurwitz was developing some huge promotions at widely popular Musicradio77 WABC when he was the age of many of the Top 40 stations listeners.

A graduate of Temple University, Lon was just 23 years old when George Williams, then the general manager of WABC, summoned him from WXYZ, the ABC affiliate in Detroit, in 1972 to become the director of promotions at WABC.

He had initially come to the attention of Andrew Erich, the vice president of marketing for ABC Radio, as a result of an award-winning broadcast promotion that Lon had developed.

Over the next two years, he oversaw The Musics On Us campaign that included the musics character, in the shape of a music note, on the background on a perforation sticker that was so popular that 1.5 million were distributed, partly through Carvel ice cream outlets in the New York City area.

Eight or nine years later you would see them in telephone booths and at subway stations, Lon said in a May 13, 2008 phone interview with Musicradio77.com

Then in the late 1990s, the Musics character became the background for Musicradio77.com, the Web Site that Allan Sniffen developed as a tribute to the legendary radio station.

We didnt have a large budget for promotions, Lon said. We did barter agreements with other media and did trades with WABC-TV, Channel 7.

A television commercial in conjunction with The Musics On Us campaign began airing on Channel 7 at 1:59:30 a.m. daily, just before it put up a test pattern and went off the air.

However, Lon discovered months later that no one had ever submitted a kill order to stop the television spot, which continued running.

We had to pay additional fees to the people on music and the voiceover because it was used beyond the contract, which amounted to $60,000, a lot of money at that time, he said.

Lon said that he had a really great relationship with Rick Sklar, the highly successful WABC program director.

He said that even though Ricks forte was promotions, he never interfered in what I was doing.

However, when asked, he said Rick provided valuable advice.

He taught me the importance of notoriety as opposed to receiving a prize, he said. In contests, a lot of people were interested in things like meeting the on-air talent or getting backstage passes to an event.

Lon said he also arranged for the WABC air personalities to do more public appearances.

I think in a large market, the air personalities sometimes get isolated, from their audience, Lon said. In the smaller markets, you were getting asked all the time to do record hops.

Brucie was the best, he said of night air personality Cousin Brucie, who, among other things, did high school visits during that period. He really enjoyed being with the public.

He said that in early 1974, for a promotion to celebrate the 10th anniversary of the Beatles arrival in the United States, he accompanied Brucie for an interview with famed variety show host Ed Sullivan, who had helped bring the Beatles to America and featured them for three consecutive Sunday nights in February 1964 on his show.

Lon said that every inch of the walls of Eds apartment at the Delmonico Hotel was covered with photographs from his career.

Ed hosted the show from 1948 to 1971 on CBS Television.

He was a great interview, Lon recalled.

I enjoyed being around all of those guys, Lon said regarding his interaction with Harry Harrison, Dan Ingram, Jay Reynolds and the other Musicradio77 air personalities. I was the youngest guy at the station, which made be a conduit to the demographics that was listening to WABC.

Lon said in 1972 the station did promotions to encourage young people to vote in that years presidential election, since the voting age had been lowered from 21 to 18 years of age.

On another topic, he said he sometimes used the WABC cruiser, which was docked at the 79th Street Pier to entertain clients along with members of the sales staff.

Lon said that from May to September, the boat was frequently used for sales junkets that included catered food.

He said that sometimes when it wasnt scheduled for use on a Sunday, he would go out for a trip around Manhattan Island.

Lon said when New York City Mayor John Lindsay was seeking to spruce up Times Square, which had become run down, the station sponsored a Valentines Day contest in 1973 and rented a skyscraper to house the estimated 75,000 Valentines decorations that were submitted.

Lon left WABC in 1974 to take a similar position for the ABC owned stations which included WABC, WLS in Chicago, KABC in Los Angeles, KGO in San Francisco, KQV in Pittsburgh, KXYZ in Houston and WXYZ in Detroit.

He has held several media-related positions since leaving WABC 34 years ago.

Lon is currently the executive vice president of LifeClinic, which Reuters has reported is the worlds leading supplier of freestanding automated vital signs monitoring.

He lives in Lake Tahoe, Calif. and has visited in recent years with Marty Ross, who was the sales manager at WABC in the early 1970s and who now lives in Sacramento.

Lon also has an apartment in Manhattan.

He and his wife, Terri, have two daughters and a son.

Its a great feeling to see that art work still being used, Lon said regarding the Music character that appears at Musicradio77.com It is great to be able to have worked with some creative people who put a stamp on something.

WABC Musicradio 77 Home Page