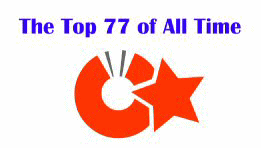 VoteTop77.com
Be listening from December 26 through January 1 for the results of the
21st annual "Top 77 of All-Time".
This year's Top 77 will be revealed in order for the first time on
Rewound Radio on December 26th and posted to The Oldies Message Board between Christmas and New Years.
And remember, the Top 77 plus hundreds of other songs that also got votes will be featured all holiday week on
Rewound Radio
!
Tell your friends and colleagues to join in the fun and listen all week long to Rewound Radio. Hear the greatest hits of all time that you remember...
and maybe even some you don't remember and never knew existed!

Hear the songs that got the votes!
And thanks for being a part of this year's Top 77 of All Time
!
--Mike Riccio (MusicRadio77.com "Survey Guy")