The 26th Annual Top 77 Songs Of All Time Survey!
The Original Internet Voted Songs Survey!
A Quarter Century + Strong!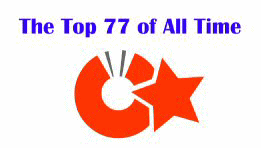 Vote Now!
As few as one. As many as TEN!

Rewound Radio & The Oldies Message Board focus on music from the 50s through the 80s.
But... you can vote for any song!

We have an automatic ballot page with over 30,000 songs listed from a drop-down menu.

If your song is not there, you can manually send your votes.
Rank your choices in order, listing your top song at #1.

Vote just once please!
Duplicate voters and attempts to "stuff the box" to favor a particular song or act must be disqualified.
This year's Top 77 will be counted down on Rewound Radio December 26th and then posted to The Oldies Message Board.
The Top 77 plus hundreds of other songs that got at least one vote will be featured all Holiday Week on Rewound Radio!

You can request the songs you voted for and find out what other people voted for.
Vote today and tell your friends!


Thanks for being a part of The 2023 Top 77 Songs Of All Time!

--Mike Riccio (Oldiesboard.com Moderator & MusicRadio77.com "Survey Guy")
(allow for a delay for the site to load)





This page has been accessed 4120 times