Profile of Jerry Zeller
by Scott Benjamin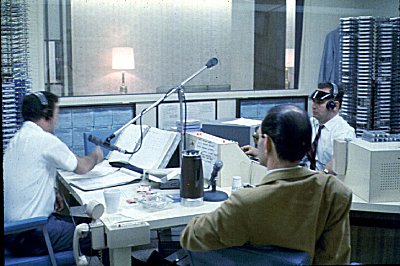 Scott Muni (left) working with engineer Jerry Zeller (right with visor)
1964
(photo courtesy Jay Sclar)
Engineer Jerry Zeller, who arrived at WABC shortly before it became a Top 40 radio station, was operating a reel-to-reel tape recorder as a mob of reporters, photographers and cameramen covered the hysteria over the Beatles arrival in the United States.
"Don't lose a word," legendary WABC Program Director Rick Sklar instructed Jerry as the Fab Four held a February 1964 news conference during their whirlwind tour of America that included the famed performances on "The Ed Sullivan Show" as their adoring fans screamed through the studio theater.
However, as the news conference wore on, Jerry's first tape was about to expire.
"I told them to hold on a minute while I change tapes and everyone just sat there for 40 seconds," Jerry said with a laugh during an Aug. 11, 2007 phone interview with Musicradio77.com.
"I had a good time with the Beatles," he said regarding his interaction with the group in New York City hotels where WABC did remote broadcasts.
He even took some 8 millimeter film of the events, which included interviews of the Beatles by evening air personality Cousin Brucie.
"I even asked them, 'Don't you ever get a hair cut?' " Jerry recalled regarding his experiences with the Beatles. "They laughed."
Some observers joked at that time about the Beatles' mop top hair-dos. However, they became a part of American culture.
Jerry, who grew up in the Bronx, briefly attended Hunter College in Manhattan before enrolling at the RCA Institute and acquiring his first class radio-telephone operator's license.
"I like electronics," said Jerry, who has been a ham radio operator for 50 years.
His first position was at WNRC in New Rochelle, N.Y. About three years later he was hired at WABC, shortly before the "Swingin' Seven at 77" air personalities were assembled as the station moved to Top 40 music.
Jerry said that evening air personality Scott Muni was a funny guy. He also was a perfectionist."
He said that morning drive-time air personality Herb Oscar Anderson was "a gentleman. He had a golden voice."
Jerry, who has worked full-time and in more recent years on a free-lance basis for ABC Television, said that Herb's son, John, recently mentioned that he and his father had worked together at WABC after Jerry and John met on the set on the ABC soap opera "All My Children."
John Anderson, an actor, appeared some years ago in the long-running ABC prime-time series "Dynasty."
Jerry said that by the mid-1960s, Musicradio77 WABC had an "A-team" of engineers that included himself, Rutgers University graduate Richard Silverberg and Win Lloyd, who later became the station's chief engineer.
Jerry, who regularly wore a green eye shade to shield him from the fluorescent lights, said he often was assigned to work with new air personalities - such as Ron Lundy and Chuck Leonard, who both arrived in September 1965.
The WABC studio had the air personality and the engineer in the same room, just four feet apart, unlike the arrangement at many stations where the engineer was placed behind a soundproof glass 25 feet away.
"The engineer was part of the show," Jerry recalled.
Jerry said this led to some lively exchanges, for example with renowned Musicradio77 WABC afternoon drive time air personality Dan Ingram.
"He would say on the air that he would give me $100 to shave my head." he said.
Jerry even sang Tony Bennett's "I Left My Heart In San Francisco" on the air one day.
He also engineered some of the remote broadcasts that Cousin Bruce did from Palisades Park and from Freedomland.
"Everybody seemed to get along," Jerry said of the friendly interaction around the station. "There were a lot of parties and we would go out on a cruise on the boat that the station had."
He worked on and off over 20 years with famed sportscaster Howard Cosell, who continued his local sports commentaries on Musicradio77 WABC and the American Contemporary Network long after he became a fixture on ABC Television's "Monday Night Football."
In 1964, Howard and Jerry traveled to Miami for the ABC radio broadcast of the World Heavyweight championship bout in which challenger Muhammad Ali won the title from fearsome champion Sonny Liston.
"I set up a studio for the interviews in my hotel room and then I was right next to Howard at ringside," Jerry said regarding the famous fight.
"I thought that Ali was very funny," he said regarding the fighters' poetry and interplay with Howard during interviews.
Jerry said he was assigned by Rick Sklar to do the air checks of Harry Harrison on WMCA, before Rick hired him to replace Herb Oscar Anderson as the morning drive air personality at WABC in September 1968.
He said that he developed a friendship with George Michael, who served as Musicradio77 WABC's evening personality from 1974 to 1979.
"The first time I worked with him he threw a cart over at me instead of handing it, like the other jocks did," Jerry recalled. "I threw it back at him. We had a lot of fun together."
Jerry said that WABC came along at the right time, as more rock music was being produced.
"The Baby Boomers loved that music from the 1950s to 1970's," he said.
"I still love it. I have all of Connie Francis' records," Jerry said regarding the popular singer of the late 1950's and early 1960's.
However, he said that he knew that the era was coming to an end when he saw some of his older daughters listening to disco music on WKTU-FM, which became the New York City ratings leader after its switched to that format in 1978.
Jerry and his wife, Esther, were married in July 1966 and currently live in Brooklyn. They have five adult daughters, five son-in-laws and 12 grandchildren.
Near the end of WABC's 21 and a half years as a Top 40 station, Jerry said that he got a promotion and became a senior production engineer, working on range of projects, including public service programs and promos.
He said that one of his strengths is tape editing.
In the 1980s, Jerry began working at ABC Television, handling audio, camera, lighting, utility and boom work on Channel 7 WABC Eyewitness News, network news programs, special events, "Regis & Kathie Lee," "The View" and soap operas - including "One Life To Live" and "All My Children."
He sometimes works with another former Musicradio77 WABC engineer, Bill Mozer, on the set of "One Life To Live."
He said that he formally retired in 1999 and has continued to work on a free-lance basis since then.
"If WABC went back to being a Top 40 radio station, I would apply to work there tomorrow," Jerry said. "It was a great experience being with all those people when it was playing the hits."

WABC Musicradio 77 Home Page