The Individual Good Guys
Even though WMCA was very much a team radio station, each disk jockey was a personality. That was part of its tremendous appeal. The familiar sound of the station was always there, but each voice added another dimension to the station.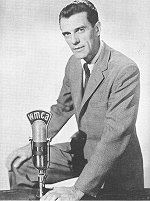 Joe O'Brien
Joe is a legend in New York radio. Originally from Yonkers NY, Joe was an aspiring actor when he answered a help wanted ad requesting radio announcers at the age of 19. He was hired to work for a wire service (known as "Teleflash") that delivered race results. Joe's job was to make this service sound like a radio station in between race results so he played some music and did some talking. A horse racing fan named Bob Carter who worked for WMCA heard Joe and offered him a job at WMCA in 1936 as a sports announcer.
During World War II he served as Chief of Production for the Armed Forces Radio Network. Back to WMCA, he moved to mornings as part of the radio team "Gallagher and O'Brien". He briefly moved to afternoons at WMCA just before the Good Guy era when Roger Gallagher left the station. Joe returned to mornings in 1960 and remained at the station through the Good Guy Era and became one of New York's most recognized morning radio personalities. He always had a joke or a one liner and he created one of New York's best known radio side kicks named "Benny".
Benny was created by Joe when 45 rpm acetate records came in. Joe recorded Benny at 33 1/3 and played it back at 45 rpm to create a high sounding voice for his wise cracking sidekick. In the beginning it was difficult for the engineers to handle since the playback was on a record with the needle in just the right spot on the acetate disk. As Joe points out, the trick was not so much in the technology to create the effect as it was in using it in just the right way in just the right places. It took a fair amount of organization and work to make the Benny dropins work.
Joe left WMCA in 1968 to become the morning air personality for competitor WNBC. He remained there for three years. He then did some fill in work for WHN and even some fill work doing talk back at WMCA for a short while. Then, in what has to be one of the most intelligent decisions ever made by a radio station living in the shadows of New York City, Joe was hired by WHUD-FM in Peekskill, New York to become its morning air personality. He started there on February 14, 1972. This was a stroke of genius because WHUD had just gone on the air as a separate station from its AM sister station WLNA. His arrival created instant credibility for the new station. With Joe at the helm for the next 14 years it grew into a tremendously successful FM suburban radio station with a fifty thousand watt signal heard clearly in New York City. Joe retired in 1986 and WHUD, having learned the power of having a "Good Guy" in mornings, hired Joe's good guy friend Ed Baer to take his place. Joe remains happily retired in upstate New York although he still does a once a week Sunday morning show for WHUD.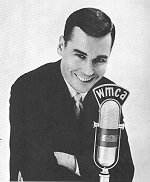 Harry Harrison
Harry was a star in middays for WMCA. He became interested in radio while he was recovering from Rheumatic Heart fever and developed a bond with those he heard on the radio during his recuperation. He started as a summer replacement in Chicago at WCFL in 1955. From Chicago he went to WPEO in Peoria where he became program director and even did some television. In 1959 (first show: 11-16-59) he moved to WMCA.
Harry supplied this website with WMCA promotional literature describing his "shameless, harmless, endless love affair with Mom". In fact, one of Harry's best known features on WMCA was his "Housewife Hall of Fame" where he announced a lucky "Mom" on the radio every morning. Housewives loved Harry and program director Ruth Meyer had the perfect morning radio team of first Joe O'Brien then Harry Harrison.
Harry recorded the holiday classic "May You Always" on Amy records in 1965 and it remains a popular holiday request every year.
When Harry left WMCA on September 21, 1968, he became the morning personality for WABC the following Monday morning! He continues in mornings to this day at New York's WCBS-FM. For more information about Harry Harrison check the New York Radio Personality Harry Harrison Remembers section of the Musicradio WABC Website.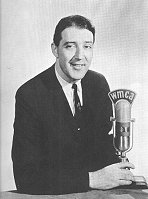 Jack Spector
"Your main man Jake" probably loved being on the radio more than any disk jockey who ever lived. Originally from Brooklyn, Jack went to broadcasting school in New York before starting in radio in West Virginia in 1955 (for $48. a week!). He then moved to Pittsfield Mass., then to WPTR in Albany NY, WPRO in Providence RI and to WJJD Chicago before returning to New York at WMCA in May of 1961. He always traveled around with a copy of his latest ratings in his pocket just in case anyone asked. One famous Jack Spector story goes that on a Yom Kippur, when Jack was working, a lady called him on the phone and said "What are you doing working on Yom Kippur"? Jack responded "I'm not live... I'm on tape"!
Jack also did a show that he taped in the mid-60's for the British north sea pirate radio station "Radio Caroline."
In 1969 Jack recorded "Moonflight" featuring Vic Venus as your main moon man. This was a Dickie Goodman type novelty record on Buddah records that reached #38 in Bill Board Magazine's Top 100.
Known as the "Human Hop" because he emceed so many "record hops", Jack also had a great ear for music. He was responsible for advising the group "The Brooklyn Bridge" to release "The Worst That Could Happen" as their next single. It went on to become a huge hit for the group and Jack was awarded a gold record for his suggestion. Another "Jake" story goes that The Four Seasons were about to release their latest song "Terry" when their friend, Spector, advised Bob Gaudio to change it to his daughter's name "Sherry". The rest, as they say, is history.
Jack left WMCA when it started with "Power Radio" but returned six months later. Then, when WMCA became a talk station in September 1970, Jack stayed for a short time doing a one hour sports talk show (he had been part of the Dodger's baseball farm club). He went on to work at WNBC on weekends, WHN doing country music, WPIX-FM and WKTU (mellow rock before it became disco). Jack was next at WCBS-FM doing the "Saturday Night Sock Hop" and moved back to WNBC for a short lived sports talk show. He also did on air work on Long Island for WKJI and WHLI. Jack's famous sign off was "Look out street, here I come!"
Off the air, Jack became involved in the eye glasses business distributing a line of frames around the country. He had lost an eye as a result of cancer before he got into radio.
His love for being on the radio is no better illustrated than with his unfortunate death in March of 1994. He was actually on the air doing a show on WHLI on Long Island New York when he died of a heart attack while at the microphone.
John F. Porcaro contributed a Jack Spector interview from 1979. Jack talks about "The Good Guys" and how they became an institution. Go to the Jack Spector Interview in 1979.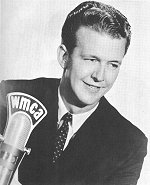 Dan Daniel
Dan, a Texas native, started in radio at 17 when he was in the Navy for the Armed Forces Radio Service. After 27 months in the Navy he came home to Houston and worked at KXYZ in 1955. He then moved to Minneapolis-St. Paul (to replace Herb Oscar Anderson) at WDGY. Always a country boy at heart, Dan has a great way with words. He can mix together songs and seques with some of smoothest banter in radio.
During his WMCA days he always described himself as "the worlds most adequate swinging disk jockey" and his smooth sound and great voice was used frequently by the station on promos. Dan stayed at WMCA until July of 1970 and then moved to WHN in New York. He then switched to WYNY in New York, then back to WHN to play country music. He went back to WYNY with it became a country station and moved to WCBS-FM in 1996. He remains there today following fellow good guy Harry Harrison every morning. Dan's famous sign off goes "Dan Daniel loves you all, especially you size nine". Who is size nine? The closest Dan has ever said (just once as far as we know) is that it's his wife Rose Mary.
Dan Daniel's first show was 8-18-61 and his last WMCA show was 7-11-70.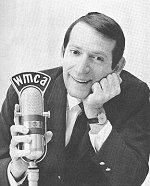 B. Mitchel Reed
B. Mitchel Reed (Burton Mitchel Goldberg) had the "fastest tongue in the west" (at KFWB) on the "wide wide weird world" even though he moved to WMCA in the east in 1963. Actually, before KFWB, he had worked overnights at WOR-AM in New York. He could say so much so fast that you lost your breath just listening to him. Also known as "BMR", he referred to his listeners as "scooters" and was a hit with the teen audience. In real life he was always concerned about his health and it was a combination of his health concerns and his desire to get back to his kids who were living in California that resulted in his departure from WMCA in 1965 (on 3-20-65 after 2 years, one month and two days). Back in California he later went on to become a Progressive Rock disk jockey at KLOS until his death in 1983. He was an Air Force veteran who held a B.S. degree in Journalism and an M.A. degree in Political Science from the University of Illinois.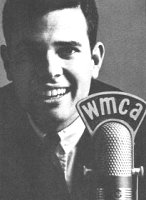 Gary Stevens
Gary was Reed's nighttime replacement at WMCA. He wanted very much to work at WMCA and jumped at the chance as soon as he got it. He created the "Wooleyburger" which was a gravely sounding bear type creature that made frequent appearances on his show. Gary had a great way with the teens and also ran a very tight show. After WMCA he went on to market TV shows in Europe and then returned to become General Manager for the Doubleday radio chain. Today he is one of the most successful radio station brokers in the business.
Gary's first WMCA show was on 4-8-65 and his last show was 9-18-68.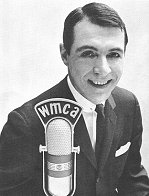 Johnny Dark
Johnny did the overnight show on WMCA from 1960 until 1964. He called himself the "Barefoot Boy from Bemidji" because he was born on an Indian reservation in Bemidji, Minn. WMCA had great fun with that and actually used him to do an Indian Rain Dance in the middle of the great New York drought of 1964. He led a costumed army of dancing Indian braves and WMCA Good Guys through Broadway's Shubart Alley as hundreds of umbrella bearing New Yorkers participated in Indian chants! He did a "Yi Yi Yi" thing on the air (which Jack Spector would contribute an "ay vey" to every so often).
Before WMCA, Johnny worked at various other stations including WBBM-Chicago, WDGY-Minneapolis, WHB-Kansas City, and KPHO-Phoenix.
Thanks to Dave Coopman we have additional information on Johnny! Dave wrote:
I believe Johnny to have been the morning drive personality at WQUA in Moline, IL from the later half of the 60's through approximately 1975, using the air name Jim McShane. McShane (nee Harold Searles) called himself the "barefoot boy from Bemidji" and at the close of each show, used Jack Spector's line "Look out street, here I come."
The reason I'm fairly sure Dark and McShane are one in the same:
Although a much younger man, Dark looks like a young McShane; the coincidental phrases used; and McShane's obituary (as I remember it) referred to his working previous to the Moline station at WMCA, WBBM, and a Kansas City station.
McShane was an extremely popular morning host, usually number one or two in the ratings. His show featured contemporary MOR music, plenty of news, and he "personalized" almost all of his sponsors into the show. After his program was over for the day, he could be found visiting many of the establishments that advertised on WQUA, as well as some of the local watering holes and restaurants.
He retired from the station due to health reasons around 1975, and passed away in the early 90's.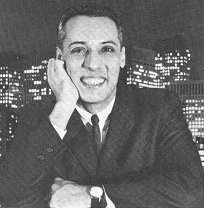 Dean Anthony
Dean, also known as "Dino on your Radio" did his first WMCA show on November 29, 1964. Dean was well known for his "Actors and Actresses" bits on the overnights at WMCA. He was one of the many who left WMCA when the consultants came in in 1968. He returned to WMCA for some fill in work six months later with the revival of "The Good Guys". He then went to an FM station for a while, then to Top 40 WWDJ in Hackensack NJ in 1971. He has since has worked for a variety of stations including mornings at WTFM in New York. Dean lives on Long Island where he is program director for WHLI. Has done all but the first WCBS FM reunions.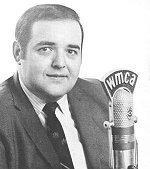 Ed Baer
Ed may well be the most personable star in radio. Originally from Connecticut where he started in radio at WICC in Bridgeport, Ed returned east to WMCA from KRAK in Sacramento California. At KRAK, Ed worked with Bill Stewart who was the Operations Manager. Stewart and Todd Storz are generally regarded as the creators of the Top 40 radio format. Ed therefore got into this type of radio in its earliest days so WMCA program director Ruth Meyer was thrilled to get him.
His "Ed Baer Affair" first appeared on WMCA in the fall of 1961 and he remained with the station through those years as "The Big Bad Bear". Ed's versatility at WMCA resulted in his being able to fill in at any hour on any show. He tells a great story about doing commercials for Murray the K's live shows. WMCA would not allow Murray's voice on WMCA since he was then working for competitor WINS. Someone suggested that Ed do Murray's spots on WMCA so he, together with Murray, would cut the commercials. Sometimes Murray thought Ed sounded more like himself than he did so he would take Ed's advice on how to better do the voice bits. Ed jokingly commented that program director Ruth Meyer had to remind him to stop sounding so much like Murray after he got back from doing some of those commercials!
Ed left WMCA when it started with "Power Radio" but returned six months later to do middays and mornings and continued after the switch to talk in September, 1970. In 1973 he grew tired of doing the talk shows at WMCA and moved over to WHN. His friendly style has continually kept him busy. He has worked in New York City at WHN, WYNY and now WCBS-FM for years. Today he is as busy as ever with mornings at WHUD in Peekskill, New York (where he has been for twelve years) and fill in work for WCBS-FM. He still signs off his show with "My best to the family and lets have lunch sometime". (I was lucky enough to take him up on that offer!)
Frank Stickle shared some of the fill in and Sunday duty on WMCA. He recently retired to the Southwest.

Ruth Ann Meyer
Ruth Meyer was "the first lady". As the program director, she brought the good guy concept with her from Kansas City where it was started by Todd Storz. Although WABC haphazardly called themselves good guys (in a few Dan Ingram voiced promos..i.e. "the tie exchange") they never organized as such and WMCA did excellent promotion with it. Currently Ruth is retired and living in Kansas City.
Other WMCA names you might remember: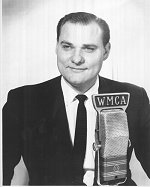 Herb Oscar Anderson
Herb was at WMCA in 1959-60. He had been doing a network show for WABC before taking over mornings at WMCA. He moved back to WABC to take over the morning show in 1960.
Bill Beamish did weekends at WMCA in the mid-60's.
Joe Bogart while not on the air, was WMCA music director.
Irene Cornell was a reporter at WMCA and her father, Cameron Cornell, was News Director at one time. At WMCA Irene met her husband, Dan Meenan, the veteran WMCA street reporter. Irene currently is a reporter for WCBS-AM.
Frank Costa worked primarily in news and early Sunday mornings and helped in the music dept. Whereabouts?
Frankie Crocker came from WWRL and was at WMCA during its final year as a music station. He gained fame during the rise of Urban FM programming in the mid 70's at WBLS in New York as its program director. He has been at WBLS several times over the years as well as out on the west coast with a similar format (which he is believed to have devised).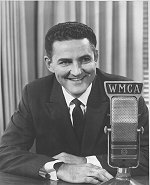 Don Davis
Don did the overnights on WMCA in 1962-63 and then did news on WMCA. He moved to WINS and their all news format in 1965 where he remains today (as Don Baldwin).
Mark Edwards worked for WBNY, the Straus station in Buffalo, and they brought him in for summer relief work at WMCA in the early sixties. He filled in for Herb Oscar Anderson and did Barry Gray's breaks. Mark is now the Operations Manager for Country Coast-To-Coast at the ABC Radio Network's 24 hour formats in Dallas.
Roger Gallagher was part of the morning team of "Gallagher and O'Brien". He left the station prior to The Good Guy era and went on to do news in various parts of the country.
Jim Harriott did news on WMCA after his evening stint. He moved to ABC to do network news 1963. He moved to WNBC and was Joe O'Brien's local news man at WNBC from 1968-71. He moved to KOMO in Seattle in the early 70's and did TV News. He has also filled in for Paul Harvey (early 80's) and done feature wraps for the Nostalgia cable TV network. A couple of years ago, he was hosting a TV show on the US Information Agency's Worldnet. Currently, Jim is in Washington DC, working at Voice Of America television. He's still on radio too, as host of the nationally syndicated AARP feature "Mature Focus". He played a Seattle TV anchorman in the 1983 Matthew Broderick motion picture "War Games.
Murray Kaufman was at WMCA doing an all night show in 1958 when he moved to an earlier shift at rival WINS. He became a legend at WINS as "Murray the K" and the "Swinging Soiree". At WINS he dubbed himself "the fifth Beatle" and successfully aligned himself with the hottest music phenomenon of his generation. Shortly before WINS became an all news station, Murray left and then reappeared on New York's WOR-FM in 1966. He helped create the progressive rock format there but when the station shifted to the Drake Top 40 format in 1966 he left. He returned to WMCA doing a weekend shift in 1969.
Bert Knapp started at WMCA in 1945. He was a disk jockey and later did news before ultimately becoming news director of WMCA. He retired in 1986 and passed away in August of 1994 at the age of 76.
Ted Koppel (yes, THAT Ted Koppel) did news for WMCA in 1963. He also did reports and interviews in the field, and also wrote some of the news scripts. At that time, WMCA used an early cassette-type miniature tape recorder for interviews in the field. Reporters like Ted would bring these cassettes into the studio, where they were dubbed to reel-to-reel tape, edited, and copied either to a 16" cold-chip acetate disk for play during the news or sometimes to a cartridge.
Dave Leeds, a New York city native, began his showbusiness career as a stage and radio actor, and studied directly under the famed Sandy Meisner. He acted in numerous radio shows (including Amos 'n' Andy), and served as one of the broadcasters for the Voice of America during War War II. He began working for WMCA in 1942, where he started as a staff announcer and went on to become the station's news director. While at WMCA he developed a close friendship with Good Guy Burt Knapp that lasted until Burt's death. Dave left WMCA around 1971 and worked for WHLI in Hempstead, Long Island. He is enjoying his retirement in his hometown of New York City.
Jeff Mazzei was music director in 1969-70.
Dan Meenan was a news person at WMCA for many years; from 1958 to 1988 and was the personification of the new york street reporter and storyteller. He died in September, 1997. His widow is former WMCA and current WCBS-AM reporter Irene Cornell.
Johnny Michaels who came from WOR-FM. He was at WMCA in 1969/70. After WMCA went talk in 1970, he moved to WNBC, and then worked as a national promotion man for AVCO Embassy records in 1972. As of 1996 he was doing talk radio in North Carolina.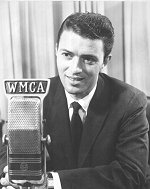 Scott Muni
Scott worked a split shift at WMCA before going to WABC in December of 1960. After leaving WABC in February, 1965 he worked a few fill in shifts at WMCA in 1965 as well a running the Rolling Stone Night Club. In October of 1966 he moved to WOR-FM's new progressive rock format. In 1967 he switched to WNEW FM where he remains today. He has been program and operations manager at various times at NEW-FM and has a "lifetime" contract there. Scott has done the voice overs for Rolaids ("how do you spell relief?"), J.C. Penny's (80's), Pontiac, and football games for the ABC TV network. He recorded "Letter to an Unborn Child" on RCA Victor in the early 60's. Scott also wrote columns for high school papers while at WMCA. Known as the "professor" because of his vast knowledge of inside stories about the music business. Originally wanted to be an actor. Did Saturday night TV show (6-6:30 WABC NY) with co-host Cousin Brucie shortly before leaving WABC radio. Scott did many record hops in the Tri-state area 50's-early 60's. Filled in a week for vacationing Dick Clark on Bandstand 1962.
Oscar Rose did news in the evenings during BMR's show. Whereabouts???
Bert Sherwood did overnights on WMCA from 1958 until 1961. He later became a consultant, initially working with Bill Hennes out of Illinois.
Ted Steele was with WMCA prior to 1958 and left to do a dance party type show on TV (Channel 9). He returned and in 1958 to about 1960 was in afternoons.
Thanks to the following for their assistance in gathering this information:
Greg Lance
Bob Gale
Bob Gibson
Ricky "the K" Kaufman
Jerry Walker
Bruce Slutsky
Jay Sclar
Tom Natoli
"Big Steve" Coletti
Vince Santarelli
Eli Rosenbaum
Jerry Walker
WMCA Good Guys Home Page