The Good Guys Sing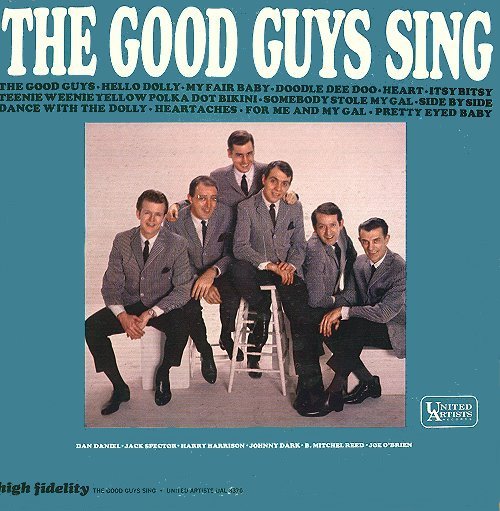 l to r: Dan Daniel, Jack Spector, Harry Harrison, Johnny Dark, B Mitchel Reed, Joe O'Brien
Yes, the WMCA Good Guys really did do everything together. The team concept went beyond just working at the radio station. In 1964 they actually recorded a record album. It was on United Artists Records and featured the guys singing 12 different songs!
When is that last time you heard a group of disk jockeys do that?
What did the Good Guys sound like on their album? Here's the "title track":

"The Good Guys" (Mp3)
On the back, WMCA General Manager Steve Labunski wrote the notes for the album cover. Steve's comments really did capture the spirit of The Good Guys:
Traditionally, "The Boss" is the bad guy. So when the Good Guys asked me to write the notes for the cover of their album I hesitated, reluctant to destroy my image. But the truth is, I love the crazy nuts. When they first started singing their Good Guys songs on the air I told 'em Disc Jockeys aren't supposed to sing…together anyway. But, that's the way they do everything…together. That means they aren't prima donnas. They aren't jealous of each other. Have you any idea how nervous this makes a boss? To find his D.J.'s not behaving according to type?
When they introduced The Beatles at Carnegie Hall I told 'em D.J.'s didn't belong at Carnegie Hall. So they wound up with a sell-out crowd singing along with them on their Good Guy theme song.
Steve Lawrence and Eydie Gorme invited The Good Guys to appear on their Cerebral Palsy Telethon and I warned… "radio performers and television don't mix". So The Good Guys brought in over a hundred and eighty thousand dollars in pledges in about an hour.
I viewed with alarm their plans for a big 10-day Easter Show at The Paramount Theatre on Times Square…and wound up having to mention to the stage manager that I was a "friend of The Good Guys" in order to get into the theatre to see Bobby Rydell.
But I really thought I had 'em when they hosted a Rain Dance (complete with real Indians) during last summer's drought. When it finally rained six weeks later they sent me a telegram: "See Steve…The Good Guys win again!"
There's only one thing I can't forgive 'em for. In spite of my reputation as a power hitter they picked a week when I was out of town to play softball with The Playboy Bunnies in Central Park. (The only time, to my knowledge, that Good Guys didn't finish first.)
When somebody at United Artists asked The Good Guys to preserve their caterwauling for the time capsule in the form of this album I knew that this time Good Guy enthusiasm was taking them too far. My record is intact. Again I was wrong. This album has that same happy, we're-having-fun Good Guy sound that comes across so dynamically on the air. They've even got me singing along.
There's never been a team like The Good Guys and there just aren't any words to describe what it's like for the rest of us at WMCA to work at a Radio Station beset, bedeviled and beguiled by The Good Guys. About all I can say is…fellas…the boss is proud of you.
Like your thousands of wonderful listeners…I love you Good Guys!
Steve Labunski
General Manager
Radio Station WMCA
New York, N.Y.
WMCA Good Guys Home Page