The WABC Cruiser!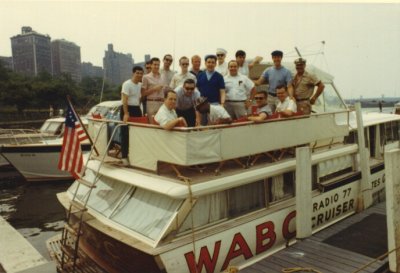 Photo courtesy of Richard Silverberg
This is a photo of a group of WABC engineers on board the "WABC Cruiser".
The boat was the idea of then WABC General Manager Wally Schwartz.
In the mid sixties he decided to impress the advertising community by
having a WABC yacht cruise the New York City waters entertaining clients.

To convince ABC corporate hierarchy that WABC radio needed its own boat,
it was decided that WABC would carry marine reports from the "new WABC Cruiser".
In actuality, the reports came from the Coast Guard.

Of course, the boat wasn't used only for impressing clients.
It was also used for contests:


Cousin Brucie Boat Ride Promo
June, 1967
New Dan Ingram Interview!
We have an interview Dan did in March, 1979.
It appears to have been done for Connecticut Public Radio. We don't know who the interviewer was.
What makes this interesting to Dan Ingram fans is that it was recorded in the WABC Studio while Dan was doing his show.
You can hear what was going on over the air in the background as Dan answers questions.

It's like being in the studio during a Dan Ingram show!
Charlie Menut restored the tape this came from which wasn't easy.
Thanks Charlie!